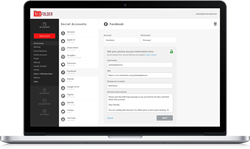 When you use Red Folder you will have addressed preparedness for today and peace of mind for tomorrow
Woodinville, WA (PRWEB) September 24, 2014
Prevendra, today announced the release of its new web-application, Red Folder™, which allows users to place their life's information in a highly secure environment for use whenever and wherever. With our technologically-dependent lives and growing virtual society, Red Folder houses all important information in one place. Users or their designees can access and locate the info they need when the inevitable emergency, big or little, arrives. Effectively, placing the required info at one's fingertips for immediate use, in a highly secured manner.
Red Folder was created to help individuals and families when they require the assistance of another in keeping their daily lives on track. For example, when service men and women are deployed, or aid workers/volunteers step away from their infrastructure; or when we are diagnosed with an illness or have an accident which lays one up; or when one reaches the point where one simply can't remember stuff - the Red Folder is their aide. And like any tool designed to help keep one's active life in order, it provides great utility to those who come behind us to be able to act in accordance with one's final wishes, be it an executor or family member.
"Red Folder is your guide to your online and real world accounts, documents and directives," said Christopher Burgess, CEO Prevendra. "I know when you use Red Folder you will have addressed preparedness for today and peace of mind for tomorrow," he continued. "The Red Folder concept came out of our personal life, as I traveled a great deal, without the means to communicate directly with my family," said Burgess. "The Red Folder keeps our lives on track. Though I may be unavailable, critical information to the family was in the Red Folder, noted Burgess.
Red Folder gives individuals regardless of age demographic, the means to ensure their heirlooms, historical medical data, online accounts, digital assets, email, social network account information, real estate, bank accounts, annuities and insurance policies, estate planning documents, etc., are handled appropriately in time of need. The user may avail to the designee very specific instructions via the Red Folder account entries.
"Two words which ripple off the tongue of all consumers are security and privacy," said Burgess. "Red Folder's design and architecture is formulated on the premise of "trust no one," he added. Red Folder uses both strong password controls, as well as two-step authentication. Additionally, users are required to use a secret encryption key to encrypt their sensitive data in Red Folder. The encryption key is user created, user stored and user distributed to their designees. Thereby placing in the user's hands the control of their sensitive data.
Red Folder also features a Designee/Time Lock function, which allows the designee access to a user's account. While each user may have as many designees as they wish, each comes with their own time lock - that is - a time period during which the user has the opportunity to squelch the designee's request to access the encrypted Red Folder account data. If no action is taken, the designee is granted access when the time lock expires
"I am pleased with the results of the Red Folder beta, our users comments speak volumes as to the efficacy of the Red Folder concept," noted Burgess. A user in Arizona, commented on how the security, authentication and privacy of Red Folder is amazing, while another user, in the UK suggested that every contract security employer should be issuing Red Folder to their personnel. Similarly, users in California and Australia commented how they thought the product was both brilliant and genius in its utility. Burgess continues, "the beta user's suggestions have proven invaluable, providing us with a substantive feature lists going forward.
Red Folder is available now. Consumers may go directly to the Red Folder website: https:/redfolder.co and create their own Red Folder.
###
About Prevendra
Prevendra is a safety, security, privacy and intelligence entity, a leader in sharing knowledge and solutions which keep individuals and companies safe and secure, online and off. Established in 2013, the privately held company is located in Woodinville, Washington. Prevendra: http://prevendra.com.