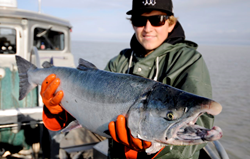 We feature Copper River coho every year at our restaurants and this year is awesome because the fish are bigger and fatter. - Tom Douglas
Cordova, Alaska (PRWEB) September 23, 2014
The Copper River/Prince William Sound Marketing Association is pleased to announce that Copper River coho will be featured at two culinary events in September—Alaska Public Media's Second Annual Sustainable Chef on September 28th in Anchorage and the James Beard Foundation's Taste America event on September 26th in Seattle. Both events highlight regional foods, chefs and sustainability. The venues will be a unique opportunity to taste and sample this year's robust and healthy commercial coho harvest.
Coho are the last of the salmon species to arrive in the Copper River Delta each year. Averaging about eight pounds, they are seen as the harbingers of fall. This year has seen a particularly strong and healthy run. Jeremy Botz, the Gillnet Area Management Biologist for the Alaska Department of Fish and Game, says the average weight of Copper River coho salmon this year is 8.8 lbs per fish, while last year the average weight was 8.1 lbs per fish average weight. In addition to being larger in size, Botz also reports that overall it looks like this year's commercial harvest in the Copper River District will be quite a bit larger than last year's run. The total harvest reported as of September 12 was around 275,000 coho salmon compared to a total seasonal harvest of 229,000 coho last year. Botz also said that reports from the fishing grounds and the processors indicate that there are many large fish in the harvest and that quality has stayed high throughout the fishery.
While Copper River king and sockeye land on dinner plates and fish counters with an exciting splash each spring and summer, it's worth noting the fresh Copper River coho being served at the two upcoming events will offer guests the opportunity to taste this year's premium coho. The preparations will be decidedly autumnal in nature. Chef Rob Kinneen, who started Fresh49 will be creating a warm and soothing coho salmon pho with a vegetable tangle at the Sustainable Chef event in Anchorage. In Seattle, restaurateur Tom Douglas will be serving it smoked.
Douglas is a longtime fan of Copper River salmon and said, "We feature Copper River coho every year at our restaurants and this year is awesome because the fish are bigger and fatter. For the James Beard Foundation's Taste America event, we will be serving it with a creamy corn chowder. In preparation, we are cold smoking the Copper River coho over hop blossoms at our farm in the Yakima Valley and then we will serve it nestled on top of a creamy corn chowder. We are big fans of Copper River and we celebrate it all year at our restaurants. It's a great quality salmon and we sell a lot of it."
For additional information, contact Nelly Hand, Executive Director
Copper River/PWS Marketing Association
Box 199, Cordova, AK 99574: t: 907.424.3459 :: f: 907.424.3430
http://www.copperriversalmon.org :: http://www.copperrivermarketing.org
http://www.soundsalmon.org