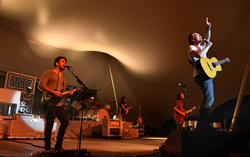 "I can't express in words what this first USO show was like for me," says Hayes. "Getting to perform for all these special men and women, and their families ... Thank you for your service, and for sacrificing all the little moments...
Arlington, VA (PRWEB) September 22, 2014
Award-winning singer/songwriter and multi-instrumentalist Hunter Hayes is back at it again - this time celebrating the service and sacrifice of our nation's troops and military families, and taking the USO's "Every Moment Counts" campaign to Norfolk as part of his first-ever USO tour. On a mission to share, give and take a moment to thank troops for their service, Hayes performed his very first USO concert at Naval Station Norfolk on Thursday, September 18.
DETAILS:

The Hunter Hayes USO show took place on the base's Parade Grounds and was attended by approx. 1,100 troops and military families stationed in and around Norfolk, Virginia area.
Earlier that morning, Hayes invited two local service members (and their families) to join him 'on air' at WGH-FM and WUSH-FM in Norfolk. The spirit-lifting, moment-filled studio visit included an opportunity for the service members and their guests to talk one-on-one with the star, pose for photos, join Hayes 'on air' and get a sneak peak of what life is like for the star behind-the-scenes. The service members were finalists of a USO Facebook contest, conducted by USO of Hampton Roads.
Hayes recently joined fellow celebrities Kellie Pickler, Jason Derulo and Dennis Haysbert, in becoming the latest entertainer to come forward and partner with the "Every Moment Counts" campaign – the USO's new initiative asking Americans to show their gratitude to troops by helping create and provide real, everyday moments for our military families.
On September 4, 2014, the star pledged his commitment to create special moments that matter for military families at each show off his upcoming Tattoo (Your Name) Tour.
Following his moment-filled USO visit to Virginia, Hayes will perform yet another USO show for troops at Royal Air Force Mildenhall in the U.K. on Oct. 11.
For more information on "Every Moment Counts," please visit USOmoments.org or join the conversation on Facebook or Twitter using #USOMoments.
QUOTE: Attributed to Hunter Hayes:
"I can't express in words what this first USO show was like for me. Getting to perform for all these special men and women, and their families - all of you! Thank you for your service, and for sacrificing all the little moments. We love you."
MULTI-MEDIA:
USO Tour Photos: http://bit.ly/1qRJWic
About the USO
The USO lifts the spirits of America's troops and their families millions of times each year at hundreds of places worldwide. We provide a touch of home through centers at airports and military bases in the U.S. and abroad, top quality entertainment and innovative programs and services. We also provide critical support to those who need us most, including forward-deployed troops, military families, wounded warriors, troops in transition and families of the fallen. The USO is a private, non-profit organization, not a government agency. Our programs and services are made possible by the American people, support of our corporate partners and the dedication of our volunteers and staff.
In addition to individual donors and corporate sponsors, the USO is supported by President's Circle Partners: American Airlines, AT&T, BNSF Railway, Clark Construction Group, LLC, The Coca-Cola Company, Grand Canyon University, JCPenney, Jeep, Johnson & Johnson, Kroger, Northrop Grumman Corporation and TriWest Healthcare Alliance and Worldwide Strategic Partners: BAE Systems, BIC, The Boeing Company, ConAgra Foods, FedEx, Harris Teeter, Lockheed Martin, Microsoft Corporation, Procter & Gamble, TKS Telepost Kabel-Service Kaiserslautern GmbH & Co. KG and Wawa Inc. We are also supported through the United Way and Combined Federal Campaign (CFC-11381). To join us in this important mission, and to learn more about the USO, please visit uso.org.
About Hunter Hayes
Four-time GRAMMY nominee Hunter Hayes is a Louisiana-born, Nashville-based singer, songwriter and multi-instrumentalist who roared onto the music scene in 2011 with his Platinum-selling, No. 1 self-titled debut album on Atlantic Records. With three No. 1 singles already under his belt (including the multi-Platinum smash "Wanted," "Somebody's Heartbreak," and "I Want Crazy"), Hayes delves into deeper material on his new album, Storyline. The emotional lead single "Invisible" resonates with fans across the globe and new single "Tattoo" is already Top 30 and climbing at Country radio. Hayes is currently headlining shows across the U.S. and Canada and will launch his headlining Tattoo (Your Name) Tour in October. For more information, visit http://www.hunterhayes.com.