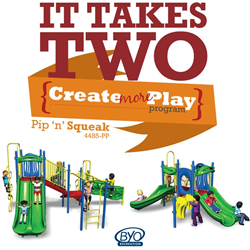 "What's fun at three is not necessarily what is fun at twelve" -Samir Patel
Saint Augustine, Florida (PRWEB) September 30, 2014
BYO Recreation's Summer Create More Play Program is scheduled to end on September 30, 2014. This quarter they have already helped hundreds of schools, churches and communities purchase brand new playground equipment for much less than the retail cost. Participants in the Create More Play Program receive a contribution amounting to half of the retail cost of their playground structure covered by BYO Recreation when they purchase select structures.
Because children change so rapidly as they grow, many communities struggle to find a playground structure that is equally fun for toddlers and middle school aged children. "We know that what is fun at three is not necessarily what is fun at twelve and we really wanted to address that" explains BYO Recreation advertising manager Samir Patel.
Although there are structures that are rated for children from 2 to 12 years of age, they must omit anything that is not safety rated for children under 5 years of age. This means that some components, including monkey bar style equipment and platforms or slides over 5' 4", are off limits. The design team at BYO put their heads together and developed an elegant solution for this problem. Pip n' Squeak, two small structures sold exclusively together as a set and designed to be installed together. One structure is designed for children aged 2 to 5 and the other for children ages 5 to 12. Their creation has been turning heads all summer because they genuinely offers something special for everyone.
Unfortunately, on September 30th the Pip n' Squeak, as well as the eight other Create More Play Structures, will be retiring. Until September 30th, BYO Recreation will pay half of the retail cost of these select structures, effectively doubling the spending power of their customers' dollar.
Any group or individual wishing to purchase a playground and receive funding through Create More Play must sign up online at the company's site to reserve their funding. Purchases may be made online or through a playground specialist. All purchases include a 3-D rendering of the project as it will appear in the customer's space.