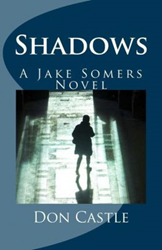 "Castle adds in humor and some unusual twist on a typical police story."
Dallas Texas (PRWEB) September 24, 2014
Mr. Kearns is recognized for his work as a voice specialist, stage and on-camera actor. He is currently appearing in the stage version of Cat on a Hot Tin Roof while lending his voice to numerous other projects. The popular Jake Somers mystery/suspense series has received rave reviews and the latest, "SHADOWS: A Jake Somers Novel" is the 1st Place winner in the 2014 Feathered Quill National Book Award in the Cozy Mystery category.
"I read Mr. Castle's first book, PECAN GAP: A Jake Somers Novel and it was excellent. The follow up, DARK SOUL, has all the elements you would look for in a mystery read. It is fast moving and has a special personal touch, to me that is the glue that pulls you in. I highly recommend this read." -Shirley Johnson, Midwest Book Review
"SHADOWS: A Jake Somers Novel captures attention with an intriguing plot and a timely discussion of synthetic drugs. Mystery fans will enjoy this puzzling plot and additionally, the alarming increase in availability and abuse of illegal synthetic drugs makes the novel timely and relevant." - A Clarion Review
"Don Castle conducts the story like a virtuoso bringing life to an orchestra. In fact I must add that when it's done this well, Don Castle makes writing look easy." -Pacific Book Review
And now, with narration by Joseph B. Kearns, they are only better. Audio versions are available exclusively from audible.com, Amazon and iTunes. Print and eBook versions are available from Amazon, Barnes&Noble and many independent online book sellers.