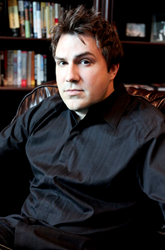 We've been able to eliminate much hardware in favor of computing in the cloud. As that continues to be implemented in the future, and new connected devices are brought to market, we'll see greater connectivity in the business world as a whole
Scottsdale, AZ (PRWEB) September 22, 2014
The Internet of Things, that vast connectivity that is happening with everything from the Apple Watch to Internet-enabled doorbells, is changing personal life for the better, but business is poised to change as well. Jason Hope, futurist and entrepreneur, indicates that the Internet of Things is going to make vast changes in the business world in the coming years. According to Hope, the Internet of Things is going to change the way we do business, the way employees function in the work place and the way consumers interact with businesses.
Mr. Hope was quoted in a recent blog post, "We're already seeing these changes in the world of cloud computing," notes Hope. "We've been able to eliminate much hardware in favor of computing in the cloud. As that continues to be implemented in the future, and new connected devices are brought to market; we'll see greater connectivity in the business world as a whole."
Hope is not the only one who is making these types of predictions. Earlier this year, Samsung's president for North America, Gregory Lee, declared in a recent September 16, 2014 article on TechRadar, that 2014 would be the "Year of the Internet of Things." The IDC has found that nearly 40 percent of the world force will be mobile workers by 2015, said BusinessNewsDay even back on January 5, 2012.
"Imagine a device that will lock your front door as you leave, open your car and start the remote start, notify you of your morning meeting and send a text to your boss based on your GPS location telling him that you will be a little late for that meeting. This is the reality that the Internet of Things brings to the business world," comments Hope.
The function of work may also change. People's work will become more anticipatory rather than reactionary as the Internet of Things, and the devices it brings, is able to anticipate work patterns, objectives and even basic movements.
"It's an exciting time for business, and watching it all unfold is like having a front row seat to a blockbuster film," says Hope.
About Jason Hope:
Jason Hope, an Arizona native currently living in Scottsdale, is an entrepreneur and futurist who is passionate about technology and health, and how the two can complement each other. His recent donations to the SENS Research Foundation to fight the effects of aging points to this passion. To learn more about Jason's work, visit him at http://www.jasonhope.com.