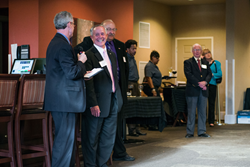 "Social Security is becoming such an important part of people's lifetime income because we are living longer and may face a retirement of 20 or 30 years," said Blair.
CINCINNATI, Ohio (PRWEB) October 01, 2014
More than 100 friends and professional advisors attended a Premier/NSSA appreciation event in Cincinnati to express support for Premier Social Security Consulting and the Social Security education program it teaches to professional advisors.
Premier partners Marc Kiner and Jim Blair's passion for nationwide Social Security education has them warbling a song of sweet success.
Kiner, a 30-year certified public accountant who sold his CPA firm to become an entrepreneur, and Blair, a 35-year veteran of the Social Security Administration, joined forces four years ago to help baby boomers understand and maximize their Social Security benefits.
Kiner and Blair hosted a Sept. 9 Premier/NSSA appreciation event to celebrate their firm's growth and raise funds in an ice bucket challenge for Crayons to Computers, a Cincinnati charity dedicated to providing school supplies to underserved children in 16 counties in Ohio, northern Kentucky and Indiana.
"We believe that every child should have the school supplies needed to be successful in school," said Susan Frankel, president and CEO of Crayons to Computers. "It's the generosity and support of partners like Premier that enable us to ensure that underserved kids and schools have access to the supplies they need."
The Social Security consulting and education firm provided entertainment by two local dueling barbershop quartets, Smooth Transition and Encore, which sang songs including: Live Till I Die; You're Nobody Till Somebody Loves You; and What a Wonderful World. Charter One Bank helped sponsor the event.
"We just wanted to say thank you to our supporters," said Kiner, master of ceremonies. "We founded Premier in 2010, and spent four years on the road in Kentucky and Ohio. Our first year, we did five consultations a month. Now we do about 30 a month."
Blair said Premier initially counseled individual retirees and those considering retirement on how to understand and navigate the Social Security system, but wanted to reach more people faster. Two years ago, they began reaching out to professional advisors—insurance agents, CPAs, financial advisor, and enrolled agents—and began teaching and certifying them through the National Social Security Association's NSSA Advisor program. Those NSSA Advisors can in turn educate their own clients on Social Security issues to help them maximize Social Security benefits.
"Social Security is becoming such an important part of people's lifetime income because we are living longer and may face a retirement of 20 or 30 years," said Blair. "NSSA advisors are better equipped to help their clients make wise decisions about Social Security."
Baby boomers turn 65 years old at the rate of 10,000 a day, so there is big demand nationwide to learn about Social Security, said Kiner. About 72 million Americans are classified as baby boomers.
Kiner and Blair named Tom Hager of Schlabig CPA firm in Akron, Ohio as the first NSSA Advisor of the Year. Hager was lauded for promoting Social Security education and his involvement in the Social Security consulting industry. He is active in the NSSA online community and has educated professional advisors in 18 Social Security seminars.
"Obtaining Social Security education and certification through NSSA has given me not only the knowledge, but the confidence to counsel clients proactively in regard to the best time and strategy to claim Social Security benefits," said Hager. "NSSA is a valuable partner in our CPA firm and is a great value add for our clients."
A married couple can leave as much as $150,000 on the table in Social Security benefits by not accessing the program correctly based on their ages, health and life expectancy, said Kiner.
"Long term health care costs for the elderly can also deplete an estate quickly and leave nothing for heirs or grandchildren," said John Murray, long term care insurance specialist at LTCUSA in Hamilton. "Educating yourself on Social Security with the NSSA program can help make sure you take full advantage of benefits that you have spent a lifetime working for. Working with Marc and Jim has broadened my knowledge base about bringing the possibility of different Social Security benefits to my clients' attention."
NSSA revenue is up 205 percent year over year for 2014, and the number of advisors attending educational classes has reached 900. Kiner said he would like to train about 1,500 advisors this year.
Kiner said he and Blair plan to visit CPA societies in all 50 states before the end of 2015 to promote the NSSA Social Security education program.
"Our goal is to hold a two- or three-hour hour seminar at each stop," said Kiner.
A schedule of NSSA Social Security education classes through Thanksgiving includes: Oct. 8, West Islip, New York; Oct. 10 and 25, webinar; Nov. 5, Louisville, Ky.; Nov. 10, San Jose/Silicon Valley; Nov. 19, Miami; and Nov. 20, Orlando.
For more information about the National Social Security Advisor certification program, go to http://www.nationalsocialsecurityassociation.com or http://www.premiernssa.com or call (513) 247-0526.
# # #
Contact: Marc Kiner
Email: mkiner(at)mypremierplan(dot)com
Phone: (513) 247-0526
About Premier Social Security Consulting:
Premier Social Security Consulting, LLC in Cincinnati educates professional advisors nationwide on the nation's Social Security program so they can counsel their clients and help them maximize lifetime Social Security income. Partners Marc Kiner and Jim Blair teach the National Social Security Advisors (NSSA) certification program.