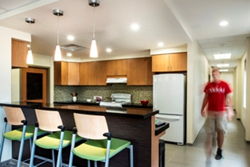 "Baylor University appreciates our partnership with KSQ and Linbeck in this refurbishment," said Jeff Doyle, Baylor University's Dean for Student Learning and Engagement.
Dallas, Texas (PRWEB) September 23, 2014
Student housing at Baylor University newly refurbished by KSQ Architects demonstrates not all campus upgrades need a big budget to be successful.
Baylor plans to refurbish or renovate ten residence halls over the next eight years. South Russell Hall, completed in August at a cost of $8.5 million, is the first of those halls to undergo a transformation. The 222-bed residence hall features double student rooms and community baths. Beginning in the fall of 2015, it will house the Education Living-Learning Center (a community for students hoping to teach in the broadest sense of the word one day).
Not only did the university want to upgrade the living spaces in South Russell, Baylor also wanted to incorporate a living-learning program into the building, which meant adding study lounges, a faculty-in-residence apartment, a classroom, and seminar rooms.
"Baylor University appreciates our partnership with KSQ and Linbeck in this refurbishment," said Jeff Doyle, Baylor University's Dean for Student Learning and Engagement. "We have kept our focus creating a transformational student experience, rooted in opportunities for positive peer leader, faculty, and staff influence. With KSQ's help, we have taken an almost 50-year old building and re-created it as a home for learning, friendship, and growth that will serve our students for another 50 years."
Creative thinking by KSQ Architects included the "fish bowl" glass-encased study rooms in the corridors that allows students to "see and be seen" by their peers while studying. Natural light was brought into the corridors to keep hallways from feeling dark, while community kitchens and a recreation and game room area in the basement enhances South Russell's sense of community. A central, open staircase connects the three levels to the basement, which now feels much more accessible than before.
"Our partnership with Baylor on South Russell Hall is something our team is really proud of," said Sean Studzinski, KSQ Principal in the firm's Texas office. "Our creative use of both their existing space and their budget is testimony to KSQ's innovation in student housing."
All of the Baylor renovations will include spacious faculty-in-residence apartments that, at approximately 2400 square feet, provide faculty and their families a space that truly feels like home.
Other Project Features Include:

New foyer, furniture and front desk area
Full kitchen for residents and guests
New quiet study spaces and expanded community lounges
Wi-Fi throughout the hall
19 single rooms
New laundry area (with free laundry) and new vending machines
Game room and fitness room on the basement level
Moveable furniture to include a fully loftable bed, desk, and chest of drawers
New classroom and seminar room in basement level
New study lounge in basement level
New faculty-in-residence apartment
Expanded and repositioned hall director and resident chaplain residences
New glass walls front lobby meeting room
New reflection room adjacent to lobby (with FatBoys pillows)
New and redesigned community bath areas with lockable shower doors
ABOUT KSQ ARCHITECTS:
With offices in offices in Colorado, New York, North Carolina, Oklahoma, and Texas, KSQ Architects is a full-service architectural firm providing programming, planning, architectural, MEP engineering and interior design services. The firm specializes in collegiate life, K-12 and multi-family housing facilities throughout the United States. A hands-on, environmentally sensitive approach is fundamental to each KSQ project, and ensures a rare level of personalized attention and sustainable methodology. KSQ has completed projects nationwide on more than 50 campuses totaling $1 billion in construction.