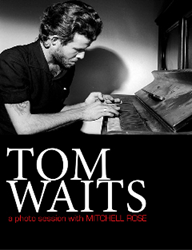 " the images are so natural, yet so iconic..this is the hippest book in my collection."kitty k
Hollywood, California (PRWEB) September 24, 2014
The book, with images of Tom Waits photographed at the historic Tropicana Motor Hotel in West Hollywood, CA, is now available in three formats exclusively at http://www.mitchellrosephotos.com. The book is available in three sizes, two collectible hardcover editions in 13" x 19" and 11" x 14" formats and a soft cover 8.5" x 11" book.
Mitchell Rose quickly became one of a cadre of go-to photographers in the burgeoning days of West Coast rock. These images from Rose's first assignment for Rolling Stone Magazine in 1977 were shot in and around the historic Tropicana Motor Hotel in West Hollywood, CA.
Waits was a post-beat, pre-rock musical experimentalist and artist who never achieved mainstream success but became increasingly important in the development of many genres of music to come. He lived a hedonistic rock and roll lifestyle that he often referred to in his later work, garnering critical praise and becoming more influential as he developed. His diverse artistry found him working with artists as diverse as Bonnie Raitt and jazz-drummer Shelly Manne, working on film soundtracks, producing other artists and acting for Frances Ford Coppola and Terry Gilliam. The images in Rose's book capture the artist in one of his most formative periods.
A generation of rock music personalities called the Tropicana home. From Jim Morrison in the late '60s, and Waits and fellow Denverite Chuck E. Weiss in the '70s, many musicians and an ever-changing assortment of rock promoters, groupies and wannabes had lived, worked and hung out at the Tropicana, and at Duke's famed Coffee Shop next door.
Photographer Mitchell Rose began shooting in New York City, experimenting with the mechanics of the art and its various tools, cameras and film. He moved to Hollywood in the early '70s and opened his Sunset Blvd. studio in 1975. A classic entertainment chronicler, Rose has done it all, concentrating on live and reportorial photography in addition to his studio work. His subjects have included Paul Newman, Muhammad Ali, Waits and David Bowie for clients ranging from Disney Studios, and Rolling Stone Magazine to album covers for major record companies. He is currently building his second home in Loreto, B.C.S. with plans to publish the best of his Baja images in a series of books.
Tom Waits – A Photo Session with Mitchell Rose is available exclusively at http://www.MitchellRosePhotos.com. The large coffee table edition is $275, the smaller $110, and the soft cover edition $50. Prices include tax and shipping to all U.S. destinations. Additional charges for international shipping and handling will accrue.
###