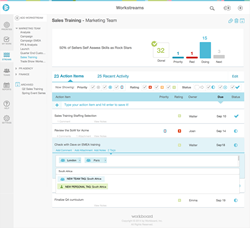 My executives love the real time transparency."
Redwood City, CA (PRWEB) September 23, 2014
Just weeks after announcing its iPhone 2.0 release, Workboard today announces the addition of Microsoft Excel and Outlook and Google calendar integrations as well as action item tagging to its wildly popular team app. Workboard helps enterprise teams align work to goals, simplify status reporting and make feedback more frequent and engaging.
"My team loves not having to do weekly reports, I love not having to create Powerpoint dashboards, and my executives love the real time transparency," Joann Neve, Senior IT Director at Daikin Applied.
Workboard provides an easy vehicle for enterprise managers to convey the team objectives and give feedback; it displaces tedious, single-user action item tracking in Microsoft Excel, the need to separately create PowerPoint dashboards and Word status reports for management, the hassle of digging through SharePoint for files without certainty of their completion status, and the endless email chains on how work is or isn't getting done. New spreadsheet import makes it easy to move existing work from old tools to Workboard. Only Workboard links goals to action items to feedback and automates weekly status reports and dashboards so teams can focus on achieving their goals.
"With Workboard, we focus on goals rather than task minutiae," says Mike Martin, Practice Director Information Governance, BTRG Inc. "With other task and project tools, there is a tendency to zoom into minor details and lose sight of bigger picture objectives. Workboard keeps us out of the rabbit hole, hitting our deliverables and focused upward on our objectives. The new Excel and tagging features help us achieve clients' goals even more efficiently."
New Features Make Work Easier to Track and Accomplish
1. Import spreadsheets from programs, projects and teams already underway.
Unlike spreadsheets, with Workboard everyone on the team easily sees the list of actions, their status and exceptions from anywhere. Workboard uniquely provides each person a list of their own actions; as they mark items complete, everyone has instant visibility on mobile or Web. No one needs to fish for the right spreadsheet or be team scribe yet everyone has the facts. Weekly status reports and dashboards are automatically generated so they don't need to be recreated for up-line executives.
2. Outlook and Google integration
In addition to its current support for mailing action items to users' lists and assigning action items from email, users can now sync calendar items to and from their calendar to Workboard.
3. Use team and personal tagging to better manage action items.
Teams can dynamically add tags or attributes for work to organize even the most complex workstreams and initiatives. In addition, team members can create personal tags to personalize how they organize without cluttering the team. This gives teams unlimited, completely dynamic ways of grouping and relating work, goals and team. Enterprise users tired of long delays to get custom attributes in traditional systems now have the ability to instantly customize their workflow and Workboard.
"Workboard makes it easy for managers to set goals and get transparency, and easier for team members to get the right work done and get real-time recognition for it," says CEO and Founder Deidre Paknad. "I'm thrilled at the response we are getting from leaders and teams – Workboard has helped them achieve their goals with greater velocity and satisfaction."
About Workboard
Founded in 2013, Workboard, Inc. is a venture-backed provider of leadership and team productivity applications that enable managers to better engage their teams in achieving goals. The company was co-founded by CEO and serial entrepreneur Deidre Paknad. The free Workboard app helps teams share goals, action items, and feedback while automating weekly status reports and dashboards. Teams at hundreds of organizations rely on Workboard including large pharmaceutical, financial, technology, oil and manufacturing companies. The company publishes Leadership & Career Velocity Insights with career development resources for high performing managers and their teams. For more information, visit http://www.workboard.com.