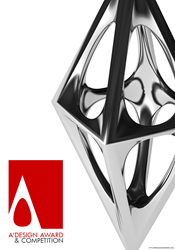 Como, Italy (PRWEB) September 22, 2014
Registrations are now being accepted for the A' Design Award and Competition, an international competition for talented designers worldwide. The deadline for submitting visionary design concepts, products and projects is on September 30, 2014. Based on the number of entries (15.000) from 180 countries, the A' Design Award & Competition is the World's most international and largest design competition. A' Design Awards also publishes the World Design Rankings.
Entries are open in 110 categories including industrial design, consumer products design, architecture as well as for technological innovations. Each category has a specific criteria for evaluation of the submitted projects. To fortify its role as a seal of quality for excellent design, the A' Design Award entries are evaluated by a 50-person, grand jury panel, consisting of press members, academics and design professionals worldwide. Entries are anonymously voted.
The A' Design Prize is given to products, projects and services which differentiate themselves through excellent design quality. Laureates of the A' Design Award are given extensive public relations, marketing and communication services to celebrate the success of winning the accolades.
A' Design Award differentiates itself from other design competitions through unique evaluation methodology and the coveted A' Design Prize.
Before participation, each A' Design Award participant is given a complementary guide about design presentations to ensure higher media placement and pick-up rates as well as to remove any presentation bias during voting. A preliminary jury member checks each entry free of charge to see whether they can be admitted to the competition or not, the jury also provides feedback to participants to help improve their presentations.
After the results announcement, each laureate gets a press release written, a press kit prepared & distributed to major outlets, design magazines and editors worldwide in almost all languages. A' Design Awards translates each award winning work to major languages and distributes news in all countries.
A' Design Awards has partnered with dozens of media publications to ensure extended exposure and coverage of the laureates. Winners are included in World Design Rankings, Designer Rankings and Design Classifications platforms and thus get discovered as leaders in design in a country or sector. In addition A' Design Award provides tools and services such as Design Megastore, Salone del Designer, or Buy Sell Design inclusion for the laureates to reach new audiences or to help them sell their offerings or to attract new clients. Furthermore, the winners get their works exhibited physically, usually in multiple countries each year.
A' Design Awards has a hardcover yearbook of best designs published by Designer Press that is given to all winners, beautifully printed in Italy, featuring awarded designs and highlighting the winners as co-authors. The A' Design Award winner logo is provided free of charge without any yearly licensing fees to all winners to embed it to their communications. Moreover, A' Design Award Winners are invited to attend the gala-night for free. Complementary prime club memberships allow further networking and business opportunities for the laureates and winners receive a beautiful 3D printed award trophy to showcase to their clients.
Entries can be made till September 30, 2014. Late entries will be accepted till February 28, 2015. Results will be published in prominent publications worldwide on April 15, 2015.
About A' Design Award
The A' Design Award & Competition is a synthetically developed design competition that was created after analysis of thousand prior design awards, competitions and contests. The A' Design Award & Competition was designed to create the highest value for its participants meanwhile making easy to establish its founding goals of promoting good design practices and principles worldwide. The ultimate aim of the design competition is to push designers worldwide to come up with superior products or projects that benefit society. Learn more about the A' Design Contest at http://www.whatisadesignaward.com