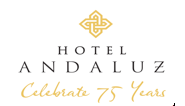 It's immensely satisfying to know that locals immersed in the culinary scene are excited about what we bring to the table.
Albuquerque, New Mexico (PRWEB) September 22, 2014
Hotel Andaluz Albuquerque's only full-service boutique hotel, has announced that Chef James Campbell Caruso nabbed a 2014 "Golden Fork Award" from Local IQ. Each year, the Albuquerque-based publication aggregates a catalogue of culinary favorites. From "Best Brunch Menu" to "Most Creative Side Dish," all restaurants, menus, and chefs are carefully hand-selected by area foodies. Chef Caruso earned the accolade for "Best Chef" after bringing his culinary prowess to MÁS Tapas y Vino, which opened last fall.
MÁS Tapas y Vino also received votes in a variety of categories including, "Best Appetizer Menu," "Best Bar Menu," and "Best New Restaurant," all driven by Chef Caruso's knowledge of Spanish cuisine, his bold take on flavor combinations, and the ambition to create a unique dining experience for his patrons.
"I'm honored to be part of the 'Shiny Fork Club,' and want to thank the judges of the 'Golden Fork Awards' for this acknowledgement," said Chef Caruso. "I take pride in the locally-sourced ingredients I choose to include in the tapas and entrees that populate our eclectic menu. It's immensely satisfying to know that locals immersed in the culinary scene are excited about what we bring to the table."
To read the full article from Local IQ, please visit:
http://bit.ly/GoldenFork
For reservations and more information about MÁS Tapas y Vino, please visit http://www.hotelandaluz.com or call 505-923-9080. Corporate guests are also encouraged to begin booking their holiday events and parties.
Upcoming Events at Hotel Andaluz and MÁS Tapas y Vino.
Beginning this week:
TAPAS TUESDAY
Happy Hour Tapas menu all night in Ibiza
Local Brewery Specials; 4:00p until 11:00p
MAS LUNCH RUSH SPECIALS
2 daily specials designed to be delivered to your tables in 10 min. or less
Monday through Friday; 11:30a until 2:00p
Starting October 1st:
UNM JAZZ NIGHT
First Wednesday of each month in CasaBlanca
MÁS tapas, wine, beer, and cocktails available; no cover
Starting October 9th:
CHEF'S TABLE TASTING DINNERS
Thursday's and Friday's only
2 seatings at 6p and 9p; 16 seats available each time-slot
$75pp; wine pairings available for an additional $35/pp
Please note that all above dates and times are subject to change.
###
ABOUT CHEF JAMES CAMPBELL CARUSO: James Campbell Caruso is the chef and owner of La Boca and Taberna restaurants in Santa Fe, which have been acclaimed by the New York Times, the Food Network, Travel and Leisure and Esquire. He is the author of Espana: Exploring the Flavors of Spain and El Farol: Tapas and Spanish Cuisine. He lives in Santa Fe, New Mexico with his wife Leslie Campbell. A native of Norwood, Massachusetts, James Campbell Caruso was "home-schooled" in cooking and eating Mediterranean foods in his large Italian-American family. Moving to New Mexico in 1988 inspired him to learn more about Latin American and Spanish foods, which he did through experience, research, and cooking tours of Mexico and Spain.
ABOUT HOTEL ANDALUZ: A leader in eco-friendly hotels, Hotel Andaluz has a rich history in downtown Albuquerque, New Mexico. The fourth hotel ever built by Conrad Hilton, Hotel Andaluz was returned to its former glory in 2009 by current owner and local resident Gary Goodman. Hotel Andaluz is the only Historic Gold LEED Certified hotel in the Southwest and the only AAA Four Diamond Hotel in Downtown Albuquerque. With 107 rooms and suites with a variety of meetings, Hotel Andaluz is the only boutique hotel in the City Center and a popular destination for parties, business meetings and weddings. The building is on the historic registry and will celebrate monthly events during 2014 to commemorate its 75th anniversary; for a list of activities, please visit: http://www.hotelandaluz.com/things-to-do/upcoming-events/