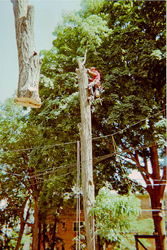 Within the last few years, there have been many cases of homeowners attempting to perform tree maintenance without professional assistance, and as a result, these homeowners encountered very dangerous situations
(PRWEB) September 24, 2014
Amazing Tree Services has been providing efficient, affordable and safe tree services in NJ for many years. The tree professionals at Amazing Tree Services are trained in tree trimming, tree removal, seasonal cleanups, stump grinding and more. At Amazing Tree Services, safety is top priority and it is their commitment to keep homes, businesses and surrounding buildings safe from any potential tree damage.
While trees can certainly add beauty to any landscape and provide some much needed shade, they can also create serious problems if they are not properly and professionally maintained. Within the last few years, there have been many cases of homeowners attempting to perform tree maintenance without professional assistance, and as a result, these homeowners encountered very dangerous situations. Luckily, preventive tree care methods can save families thousands of dollars in potential damage.
Tree trimming and pruning are equally important safety precautions to take into account. Not only does having trees regularly trimmed and pruned make any landscape look cleaner, it can prevent any unfortunate accidents or any falling branches. While this may seem like a fairly easy and routine job, it is very important that only tree trimming experts tackle these jobs. According to News4Jax, last month, a man in Jacksonville, Florida was fatally injured while attempting to trim trees on his property. Because of cases much like this one, it is imperative that, as a homeowner, this type of job is left to the professionals.
During the winter months, the weather tends to be extremely unpredictable. Wind, snow and sleet will quickly begin to take a toll on trees. Having trees evaluated to determine if they can safely make it through this upcoming winter is imperative for safety. By allowing the professionals at Amazing Tree Services to perform quality assurance on surrounding trees, you are preventing electrocution during a storm or accident, reducing the risk of fires, and preventing unnecessary power outages. A tree risk assessment with Amazing Tree Services can help spot potential weaknesses before they become major problems.
If a tree on your property might be dying or may be unsafe, the best thing to do is contact a professional tree removal company, such as Amazing Tree Services. Large, older trees are at a higher risk of falling and causing damage to homes, surrounding buildings and pedestrians. Professionally removing these trees as soon as possible guarantees safety, without any hassle.
For more information about tree safety and a tree risk assessment, call Amazing Tree Services at 973-343-6868 today!