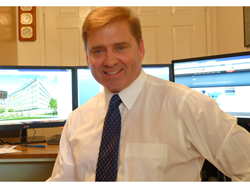 Having Francois aboard full-time as a Vector employee and Director of Certification reinforces Vector's best-in-class role for both products and services.
Providence, RI (PRWEB) September 23, 2014
Vector Software, the world's leading provider of innovative software solutions for robust embedded software quality, announced today that Mr. Francois Guay has been named Director of Certification. Owing to the strong demand for Vector Software's Global Services expertise, and a deep need for safety-critical certification services and mentoring, the company is scaling up to meet the needs of the marketplace.
Mr. Guay is a recognized certification services expert with nearly three decades of experience working in the stringent safety-critical aerospace industry. Mr. Guay recently held executive positions at FWGC & Associates, ENSCO, and BAE Systems. His credentials include these Federal Aviation Administration (FAA) Designated Engineering Representative (DER) Delegations: Level A DO-178B Software and Level A DO-254 Programmable Hardware. In addition, he holds certifications for Safety Systems and Equipment (Communications, Navigation, Flight Controls, and Electronics), High Intensity Radiated Fields (HIRF) and Lightning, ARP-4761, and ARP-4754A. Mr. Guay is an FAA DER authorized for virtually all forms of aircraft including commercial jets, general aviation, and rotorcraft (helicopters). Furthermore, he has taught Safety, Software, and Programmable Hardware since 2000 to FAA employees, and to over one thousand students from over one hundred companies in fifteen countries.
Currently, Mr. Guay makes his home in Riverside, CA and holds Bachelor's degrees in Electrical Technology and Electrical Engineering from the University of Quebec ETS (Montreal, Canada), in addition to a diploma in Electronics from the CEGEP de l'Outaouais (Hull, Canada).
"Demand for our unique blend of mentoring and expertise has been very strong, as organizations are struggling to obtain certification that their systems meet safety-critical standards", said Vance Hilderman, Director of Global Services, Vector Software. "We're thrilled to have Francois Guay, a highly respected professional, in the role of Director of Certification at Vector Software. Having Francois aboard full-time as a Vector employee and Director of Certification reinforces Vector's best-in-class role for both products and services."
About Vector Software, Inc.
Vector Software is the world's leading provider of software testing solutions for safety and business critical embedded applications. Companies worldwide in the automotive, aerospace, medical devices, industrial controls, rail, and other business critical sectors rely on Vector Software's VectorCAST™ test solution. The VectorCAST environment enables software development teams to easily automate complex testing tasks to improve software quality, using Test-Driven Development, Continuous Integration, and Change-Based Testing processes to engineer reliable software for accelerated time-to-market release cycles. Vector Software is headquartered in East Greenwich, Rhode Island USA with offices worldwide, and a world-class team of support and technology partners. To learn more, visit: http://www.vectorcast.com. Follow Vector Software on Facebook, Google+, LinkedIn, Twitter, and YouTube.