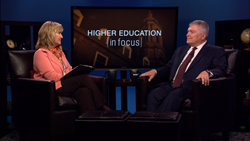 University Park, Pa. (PRWEB) September 23, 2014
WPSU-TV will launch a new monthly talk show in September co-hosted by Penn State President Eric Barron and WPSU's Patty Satalia.
The 30-minute program, called "Higher Education in Focus," will debut at 8 p.m. Sept. 25, on WPSU-TV. The premiere episode, which was taped in advance, will feature Sandy Barbour, Penn State's new athletic director, as its first guest. Barron and Satalia will talk to Barbour about her plans for overseeing the University's 31 varsity sports, news of the lifting of some NCAA sanctions, and her thoughts on potential changes to NCAA regulations.
The show will air throughout the school year and feature a variety of guests discussing University-related topics.
"I'm looking forward to discussing issues of higher education with leaders from Penn State and the larger community," said Barron. "This program will be a wonderful way to share those discussions with a larger audience."
Barron began his presidency in May after serving as president of Florida State University for four years. At Florida State he hosted a monthly television program called "Issues in Education."
In addition to WPSU, the show will air on WITF in Harrisburg and WQLN in Erie. After airing, the show will be available on the WPSU website.
The second program will air at 8 p.m. Thursday, Oct. 23. Future dates are Nov. 20, Dec. 18, Jan. 15, Feb. 19, March 19 and April 16, all at 8 p.m.
More information about the show is available at wpsu.org/infocus online.