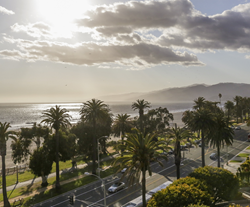 "Guests can rest comfortably in one of our luxury ocean view accommodations and also enjoy a renewing daily Swedish/Deep Tissue massage in our unique Sybaris Rejuvenation Lounge during their stay
Santa Monica, CA (PRWEB) September 23, 2014
At the Hotel Shangri-la at The Ocean in Santa Monica, a traveler's life really can be perfect with the exclusive "Room with a View and Massage Renew" option just released. Designed for discriminating guests who appreciate luxury accomodations, including relaxing spa massages during their stay, this special offering is the ultimate in a Southern California ocean-side escape to lush life.
The 'Room with a View and Massage Renew' offer includes a deluxe ocean view room for one or more days (no maximum) plus a complimentary 45-minute Swedish/Deep Tissue massage each day for one person at the hotel's poolside Sybaris Rejuvenation Lounge. Located in the lush Garden Courtyard, the unique outdoor wellness center provides guests a restful and relaxing environment in which to rejuvenate the body, mind and soul.
"We know guests appreciate tranquility after a busy day of work or travel and this added-value package perfectly reconciles their needs," said Henri Birmele, Managing Director for Hotel Shangri-la. "Guests can rest comfortably in one of our luxury ocean view accommodations and also enjoy a renewing daily Swedish/Deep Tissue massage in our unique Sybaris Rejuvenation Lounge during their stay. "
The 'Room with a View and Massage Renew' choice is offered now on an instant purchase, non-refundable basis. Massage appointments are required at time of booking. Reservations are available at (800) 345-7829.
As part of Hotel Shangri-la's 75th Diamond Jubilee Anniversary celebration this year, the hotel continues its heritage of providing guests a luxury setting that is relevant, contemporary and vibrant, and which provides an ocean-front zen-like sanctuary for those that seek it.
About Hotel Shangri-la
The urbane Hotel Shangri-la at the Ocean in Santa Monica is anything but ordinary and a member of Small Luxury Hotels of the World. Overlooking the Pacific since 1939, the hotel is a striking beacon of Art Deco elegance, a chronicle of the golden era of Hollywood and a quintessential nexus of culture. Hidden away on a high Santa Monica bluff overlooking the ocean and historic Santa Monica Pier, this timeless luxury boutique hotel promises guests their own personal Shangrila. Guests enjoy brilliant views of the Pacific Ocean, a celebrated history and a cultural connection during their stay. In the U.S., for toll-free room reservations only, please call (800) 345-STAY (7829) or for more information, visit http://www.Shangrila-Hotel.com.