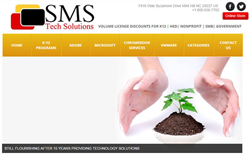 Mint Hill, NC (PRWEB) September 25, 2014
SMS Tech Solutions, LLC a woman-owned business founded in 2003, is a national value-added reseller providing technology solutions to K-12/HED/SMB/Nonprofits and Government entities.
The new website http://www.smstechsolutions.com showcases today's latest technology solutions from Google Chrome Services, Adobe, Microsoft, VMWare , Security and more. SMS Tech Solutions also launched a new online store http://www.shop.smstechsolutions.com where computer software, cases, headphones, and productivity solutions can be purchased 24/7.
Susan Hogan, CEO of SMS Tech Solutions, notes, "We are working hard to add more information on our new website daily. Our landing pages provide detailed information on license programs and products, highlighting the key technology solutions we offer. We strive to provide information that is helpful to our customers in the decision-making process. We invite you to visit our sites and welcome any feedback or recommendations."
SMS Tech Solutions is headquartered in Mint Hill, North Carolina and can be contacted by phone, toll-free, at 800-656-7702 or by Fax 877-363-7927. General information & Sales requests can be emailed to info(at)smstechsolutions.com. For more information, please visit: http://www.smstechsolutions.com