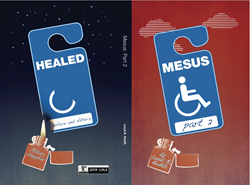 THE supernatural thriller of the decade!!!
Dallas, Texas (PRWEB) September 24, 2014
Mesus: Part Two has arrived on the crowded book roadways (courtesy of the bold indie publishers at Jock and Lola) but busts through reader traffic with the thrilling supernatural journey of Mat Clarke, who has moved from being a suicidal billionaire to a reckless Christian healer.
This second book is available at Jockandlola.com as well as at all the major online book outlets as an ebook and as a printed option. Cover art was elegantly done by world-renowned Ben Weber design and the publisher has decided that the three separate Mesus novellas will be available only for a limited time before being pulled for a re-release when the Mesus film comes out of Hollywood in the near future.
The C.O.O. of Jock and Lola, Ben Donley, expects this book series to set the tone for a new methodology for book publishers. Simply put, "Create powerful controversy for smart people and make it as visual as possible. Brains think and eyes eat."
Jock and Lola is located on the 1000-acre Windmill Ranch Preserve, which is also home to one of the highest ranked Texas Bed and Breakfasts, a burgeoning artists' community, and a spiritual direction center that helps people do deeper in "The Art of Withdrawal."