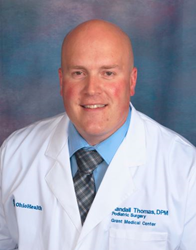 My goal is patient centered care with effective communication throughout the healing process and a quick resolution of their ailments.
Columbus, OH (PRWEB) September 29, 2014
Dr. Randall Thomas has joined the team at Clintonville/Dublin Foot and Ankle Group, Inc. in their two office locations in Clintonville and Dublin. He is accepting new patients of all ages and is available for same day appointments. Dr. Thomas has extensive training and knowledge in all aspects of podiatry care, foot and ankle surgery and treatment.
"I welcome the opportunity to work for a practice which has been built on integrity, patient centered care, and surgical excellence. I offer complete care of any and all foot and ankle ailments from conservative care to the latest advancements in foot and ankle surgery" said Dr. Thomas. "I look forward to helping the community and guiding patients through the healing process."
Dr. Thomas received his undergraduate degree from the University of New England, and then went on to receive his medical degree from the Barry University School of Podiatric Medicine and Health Sciences in Miami, Florida. Dr. Thomas completed his Residency training at Grant Medical Center in Columbus, Ohio where he performed more than 2,000 foot and ankle surgical procedures. He sees patients of all ages with any ailment involving the foot, ankle, or lower leg. Dr. Thomas works with his patients to identify their foot and ankle problems and obtain a good outcome with compassionate and ethical care.
"My goal is patient centered care with effective communication throughout the healing process and a quick resolution of their ailments" said Dr. Thomas. "I create a custom treatment plan tailored to each patient and only perform surgery on patients when it's necessary."
Clintonville/Dublin Foot and Ankle Group, Inc. offers convenient in-office x-ray, ultrasound and minor surgical procedures, complete and prompt care coordination and communication with patient's personal physician, and online appointment request.
To learn more about foot and ankle specialist Dr. Thomas and Clintonville/Dublin Foot and Ankle Group, Inc., visit: http://www.dublinfootandankle.com
Dr. Thomas is an active member of the medical staff of OhioHealth Grant Medical Center – home of the premier, nationally recognized Bone and Joint Center. With experts specially trained in the latest foot and ankle treatments, and our wide range of advanced minimally invasive surgery options, we provide you with convenient access to the highest quality and most comprehensive foot and ankle care.
About OhioHealth
OhioHealth is a nationally recognized, not-for-profit, charitable, healthcare organization with Methodist roots. Based in Columbus, Ohio, OhioHealth is currently recognized as one of the top five large health systems in America by Truven Health Analytics. It is also recognized by FORTUNE Magazine as one of the "100 Best Companies to Work For" and has been for eight years in a row, 2007-2014.
Serving its communities since 1891, it is a family of 28,000 associates, physicians and volunteers, and a network of 12 member hospitals, 25+ health and surgery centers, hospice, home-health, medical equipment and other health services spanning a 40-county area.
OhioHealth member hospitals include OhioHealth Riverside Methodist Hospital, OhioHealth Grant Medical Center, OhioHealth Doctors Hospital-Columbus, OhioHealth Grady Memorial Hospital, OhioHealth Dublin Methodist Hospital, OhioHealth Doctors Hospital-Nelsonville, OhioHealth Hardin Memorial Hospital, OhioHealth Marion General Hospital, OhioHealth O'Bleness Hospital, OhioHealth MedCentral Mansfield, OhioHealth MedCentral Shelby and OhioHealth Rehabilitation Hospital. For more information, please visit our website at http://www.ohiohealth.com.