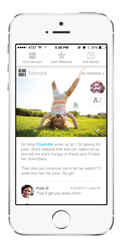 With a combined 23 children among our team, plus our network of thousands of moms who have provided us with invaluable input along the way, we know moms need ONE app to provide everything they need to organize their children's worlds
ATLANTA (PRWEB) September 23, 2014
KidsLink, an innovative app allowing moms to organize their children's important information, milestones and memories with the swipe of a finger, is now available for iPhones in the iTunes App Store after successful beta and pilot testing. The app, created by Atlanta-based parents and entrepreneurs, provides moms with a secure storyboard and vault for each child that can be kept private or shared with select caregivers, family and friends.
Founded on the premise that the job of being Mom is one of the toughest to manage in the world, but the most under-serviced from a technology solution standpoint, KidsLink combines the best of a trusted social network with a highly secure filing system via three key features: the Stream, Vault and Storyboard. Through the Stream, moms can privately connect and seek advice from their close and trusted family and friends. The Storyboard auto-scrapbooks every child's moments and organizes them chronologically, making the need to weed through photos and recall dates obsolete, while the Vault is a secure place to keep all important information for easy access, such as art, insurance cards and immunization records. Vault files can be shared with family, caregivers and healthcare providers as needed.
In a pilot program of 2,500 moms in select Atlanta preschools, moms raved about how the app gave them immediate access to information without having to dig through piles of paperwork, eliminated "baby book guilt" and allowed them to share special moments privately.
"The ability to easily chronicle my son's life absolves my never-ending mom guilt for not keeping up with his baby book," said iTunes user Tigscloset. "Love the safety/privacy, and the document vault is a lifesaver. Awesome all around."
"With a combined 23 children among our team, plus our network of thousands of moms who have provided us with invaluable input along the way, we know moms need ONE app to provide everything they need to organize their children's worlds," said Chris Morocco, CEO of KidsLink. "Further, many of today's moms are concerned with how to preserve their children's digital legacies – the online footprint that we create for our children with public posts about them. KidsLink provides a secure alternative by allowing moms to document and share their children's special moments with a small, trusted circle of friends."
Atlanta's Piedmont Healthcare has partnered with KidsLink to help moms keep track of health records and receive immediate health alert notifications, ensuring that they never miss a child's wellness visit, a breaking public health issue, etc.
"We are always looking for ways to make wellness a top priority for our community and patients," said Matt Gove, chief marketing officer for Piedmont Healthcare. "What I love about KidsLink is that it's a lifestyle app that integrates health and wellness, giving us the opportunity to reach mom with vital information and help keep her children's health at her fingertips."
KidsLink is by invitation-only. Click here to request an invite, which can be redeemed in the iTunes App Store. Visit mykidslink.com for details.
About KidsLink
KidsLink is a free iPhone app for moms to securely track and share information on their kids and stay connected with their closest friends – all in one place. Founded by Atlanta-based entrepreneurs and launched in 2014, KidsLink provides a central location for users to store, organize and responsibly share their children's milestones and memories.
For more information, like us on Facebook, follow us on Twitter or visit mykidslink.com.