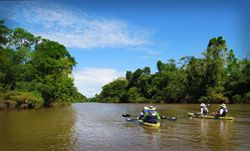 Helena, AL (PRWEB) September 23, 2014
International Expeditions is offering budget-conscious travelers a chance to reconnect with nature and take advantage of a $1,000 per person air credit on its small-ship Amazon River cruise departing November 7, 2014. While on tour, guests will also enjoy a complimentary 45-minute aerial tour of the Amazon — a $375 per person value — for a new perspective on this verdant environment.
Daily outings on IE's 10-day Amazon River cruise take travelers deep into the Pacaya-Samiria National Reserve to spot diverse wildlife, hike into the rainforest, and even fish for piranha. IE's accomplished Peruvian expedition staff and crew ensure travelers enjoy a penetrating look into the local river cultures as well as helping guests spot the most wildlife possible. During excursions into narrow tributaries, guests may spot more than 130 kinds of birds, pink and gray river dolphins, sloths and nocturnal animals. Guests also spend time in remote river villages, joining school children in games and songs and meeting with a local shaman.
Paddling two-person Hobie kayaks, International Expeditions' guests discover the wild landscapes and rainforests at the river's edge the way early explorers did – except at the end of the excursion, IE guests retire to the comfort of the recently launched La Estrella Amazonica.
Guests aboard IE's 31-guest La Estrella Amazonica riverboat enjoy private balconies for every cabin, multimedia lecture room, fitness center, kayaks and the Amazon's largest observation deck — more than 1,000 square feet — ideal for stargazing or photographing the passing rainforest.
Pricing starts at $4,398, and includes daily naturalist-guided excursions; complimentary laundry service; nightly receptions with complimentary Peruvian cocktails, wine and beer; most meals; transfers; pre-cruise accommodations at Lima's Swissôtel; post-tour dayroom; and tours of Colonial Lima and Iquitos.
For more information or a brochure on Amazon cruises, call International Expeditions at 1-800-234-9620 or visit http://www.IEtravel.com.
Celebrating 35 years of nature travel, International Expeditions specializes in small-group journeys to Earth's most exhilarating destinations. A pioneer of environmentally responsible travel, IE is committed to preserving natural habitats and improving the welfare of the people and communities it visits. International Expeditions has been named to Travel + Leisure's list of "World's Best" tour operators & safari outfitters seven times and to National Geographic ADVENTURE magazine's list of "Best Adventure Travel Companies on Earth.