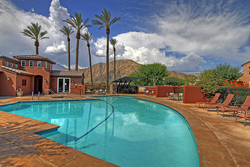 The impressive quality of these beautiful homes cannot be overstated.
La Quinta, CA (PRWEB) September 24, 2014
Brad Schmett, Broker Associate with Luxury Homes by Keller Williams announced today that thanks to top-quality construction and an extensive menu of amenities and upgrades, the Codorniz luxury patio home development has experienced a steady flow of sales activity. The prime location near the SilverRock Resort expansion project has been a huge draw for savvy buyers looking to secure the most in-demand locales for their property portfolios and home ownership.
Citing location and fine craftsmanship as pivotal factors, Schmett paid tribute to the expertise of RJT Homes this week in constructing quality homes with a wide variety of options focused on buyer preferences. "The impressive quality of these beautiful homes cannot be overstated. This builder has taken extra steps to develop and build a quality product that is energy efficient, luxurious, and has the prime South La Quinta location that our clients ask for," said Schmett. "Codorniz has had the La Quinta and greater Palm Springs area talking all summer and it is great to see our community excited about this charming gated development."
With a starting price of only $269,000, Codorniz appeals to those who are looking for value-pricing with a quality product – and Codorniz delivers both. The Cordia Model, at 1,692 or 1,731 square feet (with the split garage option) is the largest of the three floor plans. Standard features include energy efficient appliances, gourmet kitchens, security features, private courtyards and balconies.
Codorniz blends old world charm with new world convenience and a focus towards optimal worry-free living for its residents. With only 142 beautifully-appointed homes, it is truly a private enclave of elegance for those who desire the finest in the California Desert lifestyle. Minutes from fine dining, top-name entertainment and world-class shopping, Codorniz is a perfect place to call home.
For more information on Codorniz, La Quinta visit http://homes.laquintarealestateinfo.com/i/8871/Codorniz_La_Quinta_For_Sale.
To find out more about investing in La Quinta, CA real estate visit http://www.laquintarealestateinfo.com.
About Luxury Homes by Keller Williams: Luxury Homes by Keller Williams – La Quinta, is an exclusive, elite and sophisticated group of real estate consultants raising the bar for service in the La Quinta and Palm Springs area residential real estate market.