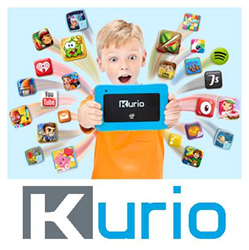 Today's parents want to leverage great products like the Kurio Xtreme tablet, but want their kids to be safe when surfing the internet and using email
Shelley, Idaho (PRWEB) September 24, 2014
KidsEmail, the leading kid-friendly email service, will now come pre-loaded on all Kurio Xtreme kids tablets according to KidsEmail spokesperson and company founder Jacob Andersen.
"The Kurio Xtreme is an excellent tablet and very family friendly. So far we've procured over 300,000 order commitments, which means KidsEmail will be available to hundreds of thousands kids and families across the US and UK. We feel very privileged that an organization such as KD Interactive sees the value and utility that our KidsEmail service adds to their outstanding product. We look forward to a very long-standing and fruitful partnership," said company founder Jacob Andersen.
The Kurio Xtreme includes a 7-inch touch screen display, super-fast Intel® Atom® Z2520 Dual Core processor, and Android™ 4.4 operating system. In addition, the Kurio Xtreme comes with:
More than $300 worth of apps and games (Over 90 Apps & Games)
Popular Games like Fruit Ninja, Subway Surfer, Cut the Rope 2
Access to over 150 E-Books
New Kid-Safe Social Networking Apps including Kid-Safe Email from KidsEmail.org
Access to millions of apps and games via Google Play™
Kurio Genius Internet Filtering System
Kurio stand
Protective bumper
Home charger
USB cable
"It was a natural partnership. Today's parents want to leverage great products like the Kurio Xtreme tablet, but want their kids to be safe when surfing the internet and using email. It's fun and educational for the kids and offers peace of mind for parents," Andersen went on to say.
About KidsEmail
Launched in 2009, KidsEmail.org is a safe email service designed to protect kids ages 5 to 13 from Internet dangers including cyberbullying, pornography, predators, and email from strangers. This service allows kids to only send emails to and receive emails from people on their contact list while also allowing parents to monitor email conversations. Visit http://www.KidsEmail.org to learn more and to sign up for a free trial.
About KD Interactive
KD Interactive is a company of KD Group, formerly CIDE Group. This division has been created with the specific objective of incorporating new technologies with learning and the development of childhood comprehension. KD Interactive released its innovative and successful Kurio product range in 2012 and is now introducing its brand new Kurio S Series range.