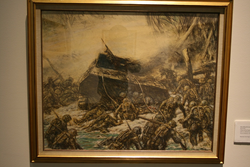 (PRWEB) September 23, 2014
The National Museum of the Pacific war has opened a new temporary exhibit that will be on display in the George H.W. Bush Gallery Temporary Exhibit Gallery until early January.
The exhibit features well-known artist such as Kerr Eby, Reginald Marsh, James Turnbull, Joseph Hirsch, and Robert Benney. The exhibit highlights the invaluable presence of trained artists on the warfront who skillfully captured the spirit of the Amphibious Forces in WWII.
The paintings which were a gift from Abbott Laboratories to the Navy History and Heritage Command are on a temporary loan to the museum for this exhibit.
The collection consists of both oil on canvas and charcoal works of art. The charcoal pieces, which were usually done right at the scene brings that situation to life for the viewer.
A museum ticket is required to see this exhibit during normal museum visiting hours.
The National Museum of the Pacific War is a Texas Historical Commission property supported, operated, and managed by the Admiral Nimitz Foundation