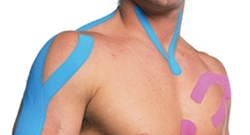 "Kinesio Taping is the most versatile treatment modality available to the therapist apart from our own two hands." Andrea Wolkenberg
Astoria, New York (PRWEB) September 24, 2014
Pain, loss of range of motion, muscle strain and weakness are conditions encountered by physical therapists, chiropractors and other health professionals on a daily basis.
In order to help medical professionals deliver the best possible care to their patients, Hands-On Seminars has scheduled a Kinesio Taping Advanced Whole Body Taping course to be delivered in Manhattan with Certified Kinesio Taping Instructor, Andrea Wolkenberg.
In this upcoming workshop Andrea Wolkenberg will cover practitioner protocols, clinical applications, and practitioner population and address specific professions (pediatrics, hand therapy, sports medicine, chiropractic, etc.) and clinical conditions (stroke, scoliosis, lymphedema, etc.).
Andrea Wolkenberg, PT, MA, CKTI has been a practicing physical therapist for almost 32 years. She graduated in 1979 from the University of Pennsylvania's School of Allied Medical Professions with a Bachelor's degree in physical therapy. She also holds a Master's degree in Medical Anthropology from the New School for Social Research in New York City. In 2001, Andrea became a Certified Kinesio Taping Instructor.
Her clinical expertise is in manual therapy, having taken numerous continuing education courses with James Cyriax, Laurence Jones, John Mennell, Shirley Sahrmann, Stanley Paris, John Barnes, and many others.
"Kinesio Taping is the most versatile treatment modality available to the therapist apart from our own two hands." Andrea Wolkenberg
Seminar will be held in:
Manhattan, New York
November 23rd – 8AM to 5PM.
Price is $299
The material covered in the seminar is appropriate for PTs, PTAs, OTs, OTAs, LMTs, ATCs and Physicians. This course is a minimum of 8 hours.
Hands-On Seminars, Inc. (HOS) is the leading international continuing education organization in the world, awarded the Lecture & Seminars Award as the best Lecture and Seminar Company from the Lectures and Seminars Bureau over the past two years. Their purpose is to provide the best quality Manual Therapy seminars at an affordable cost. For further information, please contact: Alexandra Rosner at 888-767-5003 or info(at)handsonseminars(dot)com
###