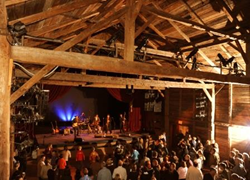 Vienna, Virginia (PRWEB) September 23, 2014
• Alt-rockers Civil Twilight and classical hip-hop phenoms Black Violin make Wolf Trap debuts

Back by popular demand: Singer-songwriters Livingston Taylor, Ari Hest and Edwin McCain
Perennial favorites International Guitar Night and An Evening of Comedy return
SOLD OUT: Season opens with Brandi Carlile in an "ultra-unplugged performance"
Wolf Trap Foundation for the Performing Arts announces 13 new acts featured on the 2014-2015 season at The Barns at Wolf Trap, its historic and intimate 382-seat indoor venue. See below for a complete calendar of events and ticketing information. Print-ready images may be found here.
Of the 51 shows currently scheduled, newly announced performances include the Wolf Trap debut of Civil Twilight, the South African alt-rock band known for "Letters from the Sky" and often compared to U2. Black Violin, the classically trained, genre-bending duo that seamlessly blends classical and hip-hop, also makes its Wolf Trap debut. Additional artists will be added to the Barns season in October and November 2014.
Back by popular demand, singer-songwriters Livingston Taylor, Ari Hest, and Edwin McCain – all sellout artists in previous Wolf Trap appearances – return to The Barns, a venue well suited to musical storytelling. Perennial favorites International Guitar Night and An Evening of Comedy return for multi-night engagements, as do New Orleans' BeauSoleil avec Michael Doucet and Buckwheat Zydeco.
Also newly announced are: roots rock band The Iguanas; singer-songwriter Karla Bonoff; A Tribute to Steve Winwood & Traffic; and the Hawaiian Slack Key Guitar Festival.
The Barns season kicks off October 6 and 7 with singer-songwriter Brandi Carlile in a brand new, all-acoustic set. The concerts are part of Carlile's newly announced "Pin Drop Tour," in which she will be playing completely unplugged – no amps, no microphones – at small theatres that are uniquely suited to such performances.
Tickets for Carlile's Wolf Trap performances sold out within minutes of going on sale to the public, and low-ticket warnings are already in place for performances by blues musician Marcia Ball (October 25), folk band Over the Rhine (December 5), and rocker Dave Mason (January 21 and 22). Many Barns performances will sell out, so patrons are encouraged to purchase tickets early for best availability.
In keeping with Wolf Trap's mission, The Barns' schedule is developed to highlight artistic exploration and accessibility to a broad range of music lovers. Artists span musical genres, from rock, jazz, blues, country, classical and world music, and most tickets are $35 or less.
With its informal setting and stunning architecture, The Barns at Wolf Trap is a one-of-a-kind musical experience. Comprised of two 18th-century barns made of hand-hewn wood beams and panels, the space is noted for its acoustic excellence and historic charm.
Previously announced artists include jazz trio The Bad Plus, whose new album Inevitable Western was just released to critical acclaim, and indie rocker Sam Amidon in his Wolf Trap debut, performing with legendary guitarist Bill Frisell. The Barns also features world music, including An Evening of Indian Dance, presented in collaboration with the Indian Dance Educators Association, as well as a collection of Hawaiian and Celtic favorites. Chamber Music at The Barns, the eight-concert classical series, opens October 10 with renowned pianist Simone Dinnerstein.
Wolf Trap members (donors of $75 and above) are invited to purchase tickets beginning Tuesday, September 23, in advance of public on-sale. Tickets go on sale to the public Friday, September 26.
###
Wolf Trap Foundation for the Performing Arts, a 501(c)(3) nonprofit, produces and presents a full range of performance and education programs in the Greater Washington area, as well as nationally and internationally. Wolf Trap features three performance venues: the outdoor Filene Center and Children's Theatre-in-the-Woods, both located at Wolf Trap National Park for the Performing Arts, and The Barns at Wolf Trap, located down the road from the national park and adjacent to the Center for Education at Wolf Trap. The 7,028-seat Filene Center is operated in partnership with the National Park Service and annually showcases an extensive array of diverse artists, ranging from pop, country, folk, and blues to classical music, dance, and theatre, as well as multimedia presentations, from May through September. The Barns at Wolf Trap is operated by the Wolf Trap Foundation year round, and during the summer months is home to the Grammy-nominated Wolf Trap Opera, one of America's outstanding resident ensemble programs for young opera singers. Wolf Trap's education programs include the nationally acclaimed Wolf Trap Institute for Early Learning Through the Arts, Children's Theatre-in-the-Woods, a diverse array of arts education classes, grants, and a nationally recognized internship program.
The complete listing of 2014-2015 Barns performances and print-ready images are available online at wolftrap.org.