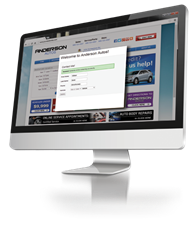 Clearwater, FL (PRWEB) September 22, 2014
AutoLoop, LLC, announced today that its Essentials product now includes Instant Online Leads, a new feature that alerts sales personnel when ready-to-buy prospects are generated from dealership web traffic, in real-time.
"As more and more people turn to the internet for car shopping, dealers need the ability to engage them immediately," said Matt Rodeghero, AutoLoop's Chief Product Officer. "They are a dealership's most viable customers because they've already expressed interest in a specific vehicle online. If sales reps aren't alerted to inquiries in real-time, however, they can't follow up…and the sale may be lost."
The potential sale begins with a customized form that allows online shoppers to easily request follow-up through the dealership website. When a customer submits an inquiry, the Instant Online Leads feature immediately notifies a specific salesperson via phone and email. Dealerships have the ability to prioritize their contact lists, determining which sales rep is alerted to an online lead first; if that person is unavailable, the system automatically contacts the next one on the list.
"The Instant Online Leads feature makes Essentials even more efficient, putting your best sales personnel in touch with your best prospects at the most crucial moment," said Rodeghero. "It's one more way we help you turn browsers into buyers."
About AutoLoop:
Since 2005, AutoLoop's commitment to "Retention Through Engagement" has helped automotive dealerships nationwide increase sales, improve client retention and achieve overall higher satisfaction ratings. With an all-encompassing platform that monitors customer DMS activity in real-time, AutoLoop automatically triggers personalized custom messages through voice, email, SMS and direct mail to precisely targeted customers. An Inc. 500 company with over 35 million names in our database and nearly a billion individual communications initiated, we're passionate about making AutoLoop America's best customer retention partner for progressive dealerships.