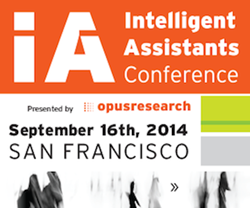 Coke, Domino's and Hyatt are part of a leading-edge group of firms that employ human-like assistants for sales, customer care, technical support and answering questions
San Francisco, CA (PRWEB) September 23, 2014
The first Intelligent Assistants Conference (#IACSF), held September 16, 2014 in San Francisco, culminated with an awards ceremony to recognize three best-of-class examples of automated self-service systems that provide a pleasant, human-like customer experience. Recipients of the first-ever IAAs included Domino Pizza's Dom, the U.S. Army's SGT STAR and Hyatt Hotel's Virtual Assistant.
Their solutions combine natural language processing, machine learning, artificial intelligence and advanced analytics to bring natural interactions to phone-based self-service, mobile commerce and Web-based chat. A panel of judges evaluated each assistant according to across a mix of selection criteria. They included overall business value, the quality of the customer experience it created, the level of innovation displayed in its deployment, the nature of user interface, breadth of services offered and consistency across multiple channels.
"The time to differentiate is now," explained Dan Miller, lead analyst and founder of Opus Research. "Coke, Domino's and Hyatt are part of a leading-edge group of firms that employ human-like assistants for sales, customer care, technical support and answering questions. Within a few years, they will be virtually ubiquitous."
About the Intelligent Assistants Conference (IAC)
The Intelligent Assistants Conference, produced by Opus Research on September 16, 2014 in San Francisco, was the first-of-its-kind gathering of technology providers and customer experience professionals dedicated to using natural language processing, machine learning, artificial intelligence and real-time analytics to create computer systems that can reason and learn. Sponsors included Nuance, IntelliResponse, Next IT, Interactions Corp., SmartAction, LinguaSys, Inbenta and VoiceBase. Speakers included experts from SRI International, IBM, Intel, Microsoft, Openstream, Jibo, EasilyDo and Expect Labs. In addition to the IAA winners, practitioners included Coca-Cola, Schlage and Windstream Communications.
About Opus Research
Opus Research is the leading IT industry analyst firm focused on "conversational commerce," which combines automated speech processing technologies, contact center automation, enterprise collaboration and mobile commerce. It also has research practices that focus on voice biometrics and indoor location and analytics technologies. See http://www.opusresearch.net