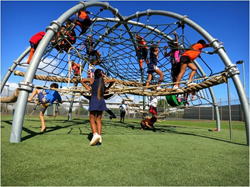 Our commitment to excellence continues to attract homeowners and commercial businesses searching for functional, aesthetic improvements
CARLSBAD, Calif. (PRWEB) September 30, 2014
EasyTurf joins ghouls, ghosts at Kelly Elementary
EasyTurf is scheduled to showcase their industry leading synthetic turf at the Kelly Elementary School Fall Carnival in Carlsbad, Calif., Oct. 18.
EasyTurf will stand up an educational booth, highlighting the environmental and play surface benefits of artificial turf, and donate turf for the Carnival's Haunted House.
"The Kelly Fall Carnival is a staple of Fall in North County – thousands of people come from all over for the event," said Dave Hartman, EasyTurf President. "We're excited to join the community again this year and be a part of their Haunted House."
The carnival will feature booths presented by each class, Cake Walk, Silent Auction, Raffle, live performances, pumpkin patch, and the Haunted House.
EasyTurf uses a proprietary 100 percent permeable artificial grass playground surface backing, MaxxFlow, for unmatched drainage capabilities. Unlike a grass lawn, rain will not turn your EasyTurf surface into a mud pit. Natural grass lawns require regular maintenance, tremendous amounts of water, pesticides, herbicides, fertilizer and time. EasyTurf's durability is also unmatched.
"EasyTurf's superior synthetic grass products are matched by a dedication to exceptional craftsmanship and customer service," Hartman said. "Our commitment to excellence continues to attract homeowners and commercial businesses searching for functional, aesthetic improvements."
EasyTurf is also replacing traditional backyards and commercial playground surfacing like rubber tiles and wood chips across the country. EasyTurf is safer, cleaner and softer than the old standard playground surfacing. At the same time, EasyTurf is extremely durable, yet non-abrasive, providing longevity and a comfortable commercial playing surface.
Studies show that falling down contributes up to 80% of all playground injuries. We can't stop kids from being kids – who would want to? - but we can improve the safety of their playground surface area. EasyTurf's FallSoft™ technology incorporates a water permeable safety pad installed beneath the product to provide additional protection against falls from play equipment. Certified by the International Playground Equipment Manufacturers Association, EasyTurf surpasses the ASTM 1292 fall height requirements for up to 9 ft. (14′ heights can be certified with additional ASTM testing) feet and meets ASTM 1951 ADA certification requirements.
EasyTurf, the landscape division of FieldTurf, plays an important role in environmentally friendly lawns, recreational fields, playgrounds and energy conservation plans for communities throughout North America.
For more information about the Kelly Carnival, visit kelly.schoolloop.com, and for the latest in synthetic grass news, visit http://www.easyturf.com
About EasyTurf:
In May 2010 EasyTurf, Inc., a long-time distributor of FieldTurf line of landscaping products and a recognized leader in the artificial grass industry, became the national brand of FieldTurf landscape, pets, playground, and golf artificial grass products. The partnership allowed FieldTurf to rapidly expand its existing dealer network and accelerate sales and distribution of FieldTurf landscape products on a national level to homeowners, municipalities, schools, businesses and the military.
EasyTurf is North America's preeminent source for landscaping, offering state-of-the-art synthetic lawns for realistic, beautiful, easy-care residential and commercial landscapes, providing specialty synthetic grasses engineered specifically for military surfaces, commercial and residential athletic and playground surfaces, putting greens, and for pet-friendly landscapes. EasyTurf product advancements in the synthetic grass industry have led to massive growth for the Vista, California-based leader in life-like artificial lawns that stay beautiful year round.
FieldTurf has long been the world leader in synthetic sports field cover; now EasyTurf is poised to equal that success in the residential and commercial artificial grass landscaping markets.
Contact:
Jackie Luper, Vice President, Marketing
Phone: (760) 745-7026
Fax: (760) 888-2011