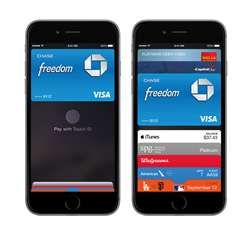 "Supporting Apple Pay is another example of how the USAePay gateway is always evolving to the latest demands in the payment processing industry..." Ben Goretsky, CEO
Glendale, Calif. (PRWEB) September 23, 2014
USAePay is proud to announce its role in supporting transactions processed with Apple Pay. Apple Pay's back-end technology uses contactless payment standards which have been supported by USAePay's Payment Gateway for several years. USAePay's contactless payment technology will allow iPhone 6, iPhone 6 Plus and Apple Watch users to process their payments through its gateway solutions using Apple Pay.
Apple Pay provides a secure and easy method to accept and process payments directly from customers using the new Apple devices with the new built-in NFC technology. USAePay's developer-friendly libraries, SDK's, and API's are ready today to support transactions using Apple Pay. Businesses can now process transactions from Apple devices supporting Apple Pay using their existing USAePay Payment Gateway account.
"Supporting Apple Pay is another example of how the USAePay gateway is always evolving to the latest demands in the payment processing industry. We are excited to update our iOS SDK to support Apple Pay's In-App Purchases as well as expand our already existing NFC processing technology to the new Apple Pay system" says Ben Goretsky, CEO.
USAePay enables merchants and developers with the proper tools and documentation to accept payments made from Apple Pay. To learn more about how USAePay supports Apple Pay, visit http://www.usaepay.com or call our live customer support at 1-866-872-3729 ext. 709. Our live customer support representatives are always ready to assist you with questions regarding this announcement.
###
USAePay is a family-owned business based in Los Angeles, California. For more than 15 years, the company has been assisting merchants with payment processing solutions to fit their needs. USAePay's payment gateway supports most of the major platforms in the credit card industry and works with some of the leading check platforms. USAePay is pleased to work with most of the larger merchant service banks in the US and Canada. For more information, please visit http://www.usaepay.com or call 866.USA.EPAY (872-3729).