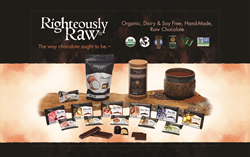 San Diego, CA (PRWEB) September 23, 2014
With summer at an end (at least in calendar days, if not in spirit and weather), organic food manufacturing company Earth Source Organics prepares for the fall season and a month centered on sweet treats for the whole family. Kids and adults alike will don costumes and pop bite-sized candies by the handful in celebration of the myriad cultural and commercial October festivities.
However, in recent years these festivities come with an increasing degree of caution. A heightened awareness of food allergies in children, the dubious properties of commercially produced candy handed out by strangers, and the planned copious amounts of consumption, have led some parents to approach Halloween with a battle plan. Articles abound detailing different tricks and tips for curbing the amount of candy a child will eat, in order to mitigate the sugar rushes and crashes, cavities, and sticky fingers that inevitably follow a pillowcase full of treats.
Instead of the tricks, Earth Source Organics offers genuine chocolate treats that are made with wholesome, healthy, high quality ingredients, with low glycemic indexes, no refined sugars or genetically modified ingredients, and free of most major allergens including gluten, soy, dairy, eggs, sesame, sulfites, and tree nuts, with the exception of coconut. Their line of Righteously Raw chocolate products represent a healthy, and still fun and delicious alternative to the high fructose corn syrup and over-processed ingredients that rule the world of Halloween candy. Earth Source Organics invites everyone to indulge in their rich, positive-energy filled, nutrient-dense, and guilt-free chocolate treats this Halloween season.
More About Righteously Raw Chocolates:
Righteously Raw is the gourmet chocolate brand of the certified organic food manufacturing company Earth Source Organics. Based in Southern California, this company is on a mission to provide organic and delicious foods to its customers to help them lead happy, healthy lives. For more information and to find Righteously Raw Chocolates near you, please visit http://www.righteouslyrawchocolate.com.
To learn more about Earth Source Organics' Halloween treats, please contact Audrey Darrow at (760) 734-1867 or info@earthsourceorganics.com