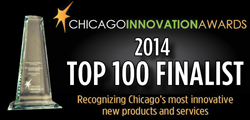 We are excited to be recognized as an innovation leader in Chicago's technology community.
Chicago, Illinois (PRWEB) September 23, 2014
Out of 552 nominees, INXPO has been selected as one of the Top 100 Finalists still in the running for the 13th annual Chicago Innovation Awards. The awards recognize the most innovative new products and services in the Chicago region across all organization sizes, sectors and industries. 1500 business and civic leaders will come together to honor the winners when they are announced on October 30th at Chicago's Harris Theater.
The innovation nominated by INXPO's Business TV, a single location for secure live and on-demand video content to engage a dispersed workforce. Business TV allows companies to deliver video content that is both interactive and educational. With a global reach, companies are able to engage their internal audiences anywhere in the world on any mobile device using this versatile digital communications platform.
"It's inspiring to see the range of vision and the depth of talent among organizations like INXPO in the Chicago area," said Tom Kuczmarski, co-founder with Chicago journalist Dan Miller of the awards. "Companies are investing in innovation and taking more risks to launch new ventures and uncover new value."
"We are excited to be recognized as an innovation leader in Chicago's technology community, and are thrilled to see more and more companies incorporate video to evolve their internal and external communication strategy using INXPO's platform to deliver live and on-demand content." said INXPO's Adam Polaszewski, Director of Marketing.
Out of the Top 100 Finalists, the judges will select 10 winners of the Chicago Innovation Awards, as well as winners of the Up-and-Comer Awards representing innovation in the start-up community, the Social Innovator Award and the Collaboration Award. The winners will be invited to ring the NASDAQ Bell in New York City, invited to separate meetings with Mayor Rahm Emanuel, Governor Quinn, and Cook County President Toni Preckwinkle to discuss their innovation, profiled in Crain's Chicago Business, and invited to business leadership training at Disney Institute in Orlando, FL.
Each of the Top 100 Finalists is also in the running for the annual "People's Choice Award," selected through public online balloting at http://www.chicagoinnovationawards.com. The deadline to vote is October 3rd 2014.
About INXPO
INXPO's BUSINESS TV offers an always-on, private, secure, multichannel network making it easy to broadcast and host relevant content for your audiences. With INXPO's BUSINESS TV, your audience has a single destination where content is created, shared and consumed — bridging the communications gap between employees, customers, and prospects.
Serving more than 3,000,000 audience members globally, INXPO's webcasting solution is robust enough to exceed technology requirements, but interactive and flexible enough to meet the needs of any audience.
To learn more about how INXPO can fit into your organization's communications strategy please visit http://www.inxpo.com, email us at contactsales@inxpo.com, or call us at (312) 962-3708.
About The Chicago Innovation Awards
The Chicago Innovation Awards, established in 2002, has grown from a single awards ceremony to a year-long series of events and activities designed to celebrate innovation in the Chicago region, educate people and organizations about the principles of innovation, and connect the corners of the economy by building relationships that strengthen companies, grow the economy, and create jobs. The organization's expansion has included formation of the Chicago Innovation Foundation, which promotes innovation education and provides scholarships to college students each year, as well as The Innovators Connection, which connects large companies with Chicago-based start-ups. For more information, visit http://www.chicagoinnovationawards.com.