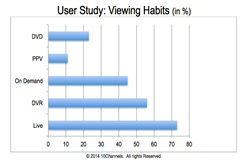 Our research shows consumers do stream and use new technology, but most homes still want some level of cable or satellite TV service with favorite channels and the ability to record.
San Francisco, CA (PRWEB) September 24, 2014
10Channels.com announced expanded reach to millions of additional homes throughout the U.S, adding to the thousands already using the site to better align cable and satellite TV services with channels they watch. At a time when most people pay around $120 for about 200 channels, yet watch only a handful, 10Channels is emerging as the industry leader matching users with the right TV service based on requested channels.
Following months of research and development, the new product concept underwent rigorous testing in the San Francisco Bay Area over the summer months before launching nationally just this week. The site uses a combination of automated data, algorithms and real human insights to derive customized recommendations for users.
In an industry known for spotty customer service and confusing promotional offers, 10channels simplifies information to make cable and satellite TV options more clear and accessible to consumers. Whenever possible, costs for all services including channel packages, premium networks, equipment and restrictions are shown for 12 and 24 months, making solid comparisons easier and more reliable.
Public reaction to the site is very positive, according Adrian Emmanuel, Vice President of Marketing & Communications. "We've had an incredible response from users and industry leaders," said Emmanuel. "Our research shows consumers do stream and use new technology, but most homes still want some level of cable or satellite TV service with favorite channels and the ability to record."
Extensive studies by Nielsen and other TV industry experts show most people watch only 10-15 TV channels, regardless of how many are available. Instead of pointing consumers to temporarily discounted packages with 300 channels, many of which are not used, 10channels steps away from current industry practices to consider the channels an individual wants, then provides a recommendation to the best package match for an affordable price. The site is free to users and includes service options from cable, satellite, Telco, streaming services and free TV over-the-air.
The innovative 10Channels approach is considered a win for both the 100 Million U.S. consumers who currently pay for cable or satellite TV and the companies who offer these services. In an otherwise chaotic and confusing marketplace, users are shown a clear path to get channels and features they want. Cable Industry research shows customers are more satisfied and less likely to disconnect when they have networks they value and use. Cable TV companies benefit from lower acquisition costs and better retention rates with well-qualified customers carefully matched to appropriate service levels. This advanced 10Channels approach translates into better value for both.
"10Channels offers a great service from the consumer's perspective," said a leading network executive. "I appreciate the Recommendation section and the way pricing and provider options are clearly shown. It's a very different way to approach our viewers."
Individual recommendations span a wide range. Homes predominately streaming and watching local stations may be best served by a digital antenna delivering free TV signals over-the-air. Another user may want a mix of local and national networks in a cable bundle with Internet to support on demand access. A different user may ask for dozens of networks, extra sports and advanced equipment. Each unique recommendation focuses on desired channels and how the user watches TV.
"Our team spends a great deal of time gathering current, relevant cable and satellite information," added Emmanuel, "We don't present any channel or company as better than another, but we do show consumers their choices in a direct, usable way."
In an effort to provide the best consumer experience while offering a platform to display the huge variety of TV channels and services, the pioneering company is building solid working partnerships with cable and satellite companies, as well as networks and subscription streaming services. 10Channels research shows increasing numbers of viewers tapping streaming and on demand programming on mobile devices, although live TV viewing on a big screen continues to dominate.
With this week's expansion, 10channels provides service recommendations for most cities and towns throughout the U.S., constantly enhancing its database to offer current pricing, packaging and TV industry insights. 10channels is based in the San Francisco Bay Area.
For more information, visit 10Channels.com
About 10Channels.com
10Channels is a San Francisco Bay Area technology company driven to simplify choices and inform the 100 Million U.S. households who pay for video services through cable, satellite and Telcom providers. 10Channels is not affiliated with any network, service provider or other company.