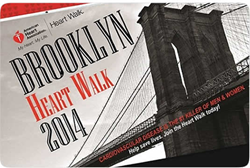 Our staff are very excited to be taking part in this important fundraising opportunity.
New York, New York (PRWEB) September 23, 2014
Carpingo and AllCar Rent-A-Car are banding together for the Brooklyn Heart Walk 2014. The Brooklyn Heart Walk is working towards creating a healthier Brooklyn – from the heart out. This walk focuses on raising funds to find cures for strokes and heart disease. The Brooklyn Heart Walk will be held on October 5, 2014 in Cadman Plaza on the North Lawn at 8 a.m. The walk will begin at 9 a.m. and festivities will continue until 1 p.m. The walk will make its route through Brooklyn Bridge Park.
The Brooklyn Heart Walk promotes the many benefits of having a physically active and heart-healthy lifestyle. Families, friends, and companies experience the enjoyable qualities of being active together. Through this, the walk raises awareness while also raising funds.
Heart disease and stroke are the number 1 and number 4 causes of death in America, respectively. Combined, these diseases take the lives of more than 813, 804 Americans annually. Many of the participating families carry a torch throughout the walk in honor of loved ones who have died of heart disease or stroke.
AllCar Rent-A-Car, the largest independent rental car company in Brooklyn, was founded 30 years ago. Helping in creating a healthier Brooklyn are AllCar's company teammate, Carpingo. Carpingo is the only car-share community in Brooklyn, providing fuel and insurance alongside the vehicle 24 hours of the day, 7 days a week. If you wish to donate, each AllCar location will collect donations. Carpingo also encourages its members, partners, friends, and family to give to this great cause. Staff members from both companies will be walking in the event. Gil Cygler, president of AllCar, expressed how "our staff are very excited to be taking part in this important fundraising opportunity."
AllCar and Carpingo hope to raise $3,500 before the Brooklyn Heart Walk in October. As of September 19, their team had raised $1,340. The overall goal for the event $300,000. With two weeks to go, the walk has raised $102, 191. Prizes will be given out for those who have raised $100 or more, with 10 prize levels in total.
For more information on how you can donate to the Brooklyn Heart Walk to show your concern for creating a healthier Brooklyn, go to the AllCar and Carpingo team page.