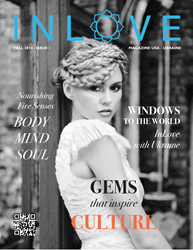 New York, NY (PRWEB) September 24, 2014
Today, Momentum PR Group LLC, announced the launch of INLOVE, a bi-monthly magazine offering dynamic creativity and experience in fashion, arts, music, design, photography and worldwide projects in the US and Ukraine. Created for the utterly modern and knowledge-hungry reader, INLOVE magazine is a unique platform for exchanging ideas and discovering exciting artistic trends around the globe. Celebrating beauty, art, and love for humanity, the magazine supports the reader's desire to lead a conscious and positive lifestyle. The first issue will be available on October 7, 2014.
INLOVE will have a starting circulation of 10,000 copies and a digital edition with a subscription base of 3 million readers both in the US and Ukraine. The magazine will be published in English and Ukrainian. Distribution will include mailing to affluent public figures, celebrities, politicians and 300K + households, copies for top fashion and art industry insiders as well as worldwide newsstands.
The magazine is founded and led by Momentum PR Group Creative Director and now the Editor-In-Chief for INLOVE Elena Vasilevsky, who has created an all-star team of arts, design, and fashion editors united by their extensive experience and passion for beauty in every expression.
INLOVE magazine executive editor, Tatyana Borodina, said of the launch, "We are driven by our love for life and the passion of our contributors. Being a contemporary entertaining and informational magazine, we keep our efforts focused on promoting a positive approach to life and encouraging our readers' interest in global events. INLOVE celebrates the national identity of Ukraine, because we believe that this country has a great future. We feel that now is a great time to introduce Ukrainian talents to the American audience and encourage communication between artists, businessmen and philanthropists in both countries. We are confident that our magazine occupies a unique niche on the market due to its inspirational multicultural content that appeals to a very broad international audience. INLOVE offers an array of exciting business opportunities to its supporters and will host cultural events on a regular basis. INLOVE magazine can't wait to show you how truly amazing life can be!"
The official launch will take place on October 16, 2014 at The National Arts Club (15 Gramercy Park South, New York, NY 10003.) at 7 pm. Cocktails.
"LUXE Gems That Inspire" is a special presentation, capturing the infinite source of inspiration, the energy of love in motion, celebrating ephemeral beauty and grace.
For press and media inquiries, please contact:
PR Worldwide
INLOVE MAGAZINE
NYC Headquarters: (212) 977-2299
Email: inlovemagazine2014(at)gmail(dot)com