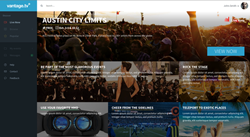 vantage.tv, the next generation platform for VR Live Events, enables music lovers to become deeply engaged in and have full control over their music festival experience.
Dallas, Texas (PRWEB) September 23, 2014
vantage.tv delivers an immersive, hypnotic way for people to control their live event experience. Music fans can now participate in live events virtually by placing themselves in one of several locations during live performances via VR headsets from Facebook's Oculus Rift, Sony's PlayStation 4 VR, Samsung's Gear VR, Google's Cardboard, Microsoft's Project NEO and others.
As a result of a unique partnership with C3 Presents, a leader in producing music festivals and events, vantage.tv will create an enveloping music virtual reality experience that music fans have never seen before by allowing them to see live performances at The Austin City Limits (ACL) Music Festival on October 10-12, 2014. Online attendees are invited to select how they enjoy the live performances at ACL this year by choosing several exclusive access-only areas to view performances - from behind the soundboard to the photographer's pit, from stage right, or the backstage VIP lounge and all points in-between. All access to the BETA test of this virtual event will be free to the public.
The release of vantage.tv continues founder Juan Santillan's leadership in the VR category through innovative technology and compelling content to expand the definition of virtual reality. "The latest prototype from Oculus has amazing potential. The growth in virtual reality will explode soon," said Mr. Santillan after the Oculus Connect conference in Hollywood, CA. "vantage.tv has the opportunity to revolutionize how people consume and engage with live content in their homes or wherever they are. We are excited to be delivering the first platform that will give unprecedented access and control to fans from their living room to live events all over the world."
During this VR event, vantage.tv will allow anyone with an Internet connection and a VR headset to view all vantage.tv content produced from ACL 2014 for free. Music lovers, virtual reality fans, and other would-be BETA testers must sign up for their exclusive access at http://vantage.tv on or before October 9th to be admitted.
About vantage.tv
vantage.tv's passionate team of product developers and technology leaders possess more than 20 years of combined VR experience. They have mastered the logistics of immersive filming of live events and have created live virtual event experiences for top sports and entertainment brands. Founded in 2014, vantage.tv is based in the Dallas suburb of Plano, TX. vantage.tv will revolutionize how to create the best virtual reality experiences for live entertainment.
About Austin City Limits
ACL is an annual two-weekend three-day music festival held in Zilker Park in Austin, Texas. Inspired by the PBS concert series of the same name, the festival is produced by Austin-based company C3 Presents, which also produces Lollapalooza. Approximately 240,000 people attended the festival in 2013.
For more Information Contact:
Giovanni Gallucci
press@vantage.tv
1800 Preston Park Blvd Suite 220
Plano, Texas 75093
Ph: 1-469-682-6978
###