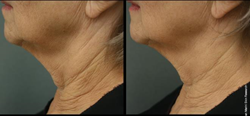 Marini Juveneck is the perfect complement to any at-home skin care program for total skin rejuvenation
San Jose, CA (PRWEB) September 23, 2014
Jan Marini Skin Research, Inc. (JMSR), a leading provider of professional skincare and aesthetic solutions, announces a breakthrough neck cream, Marini Juveneck. This revolutionary and medically-proven solution combines potent anti-aging and skin nourishing ingredients for a dramatically younger, smoother more contoured neckline.
A clinical study, conducted by dermatologist Leslie Baumann, MD on 71 subjects over a 12-week period showed significant improvement and high overall satisfaction. Study subjects noted a broad range of benefits including statistically significant improvement in pre-post satisfaction assessments for neck hydration, skin texture, appearance of wrinkles and appearance of laxity on the neck and jawline. Over 94% of study subjects responded that they liked the overall results and application of Marini Juveneck, 94% noted improved texture with smoother, softer skin and 78% noted improvement in satisfaction with laxity on the jawline.
Jan Marini, CEO stated, "The delicate neck area is highly susceptible to premature aging and is one of the first areas to show signs of aging yet this area is often overlooked. Regardless of the care one takes on their face, horizontal creases, textural changes, wrinkles and loss of definition along the neck and jawline can age an individual's overall appearance. Marini Juveneck fulfills a need in the professional skin care market for a neck rejuvenation product that has dramatic visible benefits and is backed by clinical research. Marini Juveneck is the perfect complement to any at-home skin care program for total skin rejuvenation."
Marini Juveneck will be available September 24, 2014 and will retail for $85 through professional JMSR resellers and via http://www.janmarini.com.
About Jan Marin Skin Research, Inc.: San Jose, CA-based Jan Marini Skin Research, Inc. (JMSR) is a recognized leader and innovator of professional skin care. In addition to multiple patented formulations, JMSR's track-record of technological firsts includes, but is not limited to, topical TGF beta-1, antioxidant sunscreen, topical resveratrol and cosmetic lash enhancement. JMSR products and its Skin Care Management System are used and trusted by professionals worldwide. For more information, visit http://www.janmarini.com or contact the company at (800) 347-2223.
###