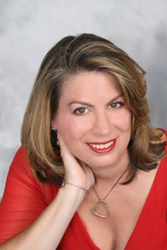 With my tools and strategies, you will not only finally find your true love, you will live life doing what you really love ...
Washington, DC (PRWEB) September 24, 2014
Amy Schoen, MBA, CPCC, has announced the launch of a new series of how-to videos designed especially for marriage-minded singles. Produced as part of the Your Tango Quickies Expert Life Tips series, each short video tackles questions singles ask, or should be asking, before moving into a new relationship. These include: Do you fall in love too quickly? What do you do if there's no chemistry on a first date? Are you starting to panic if you're over forty? How do you know your partner is motivated to marry?
The new video series is an introduction to Schoen's proprietary Motivated to Marry® Dating Secrets Coaching Program. She provides a system designed to help singles discover what they truly want and need, and then guides them into finding love without changing who they are.
As a Certified Professional Life Coach, Schoen works with women and men to create and nurture lifelong relationships, and build the family lives they so desire. She uses her personal life experience, coaching skills and gift for visualization to help her clients find and connect with "the right one." She advises them in attracting fulfilling, committed relationships that align with their values and goals, especially when it comes having a family.
For more than ten years Schoen has specialized in coaching clients so they experience positive results through both online dating and face to face opportunities. She takes pride in saving them the precious time and energy required to find an "ideal" match. She knows firsthand how important it is to create a happy, lasting relationship and a satisfying family life.
According to Schoen, her video series, coaching services and Motivated to Marry program is particularly effective for singles who have made finding a serious committed relationship a priority in life. These clients actively seek support in creating opportunities for meeting that special person and are willing to put their energies and resources toward achieving that goal.
"I'm here to guide you in designing a targeted, effective dating plan," says Schoen. "With my tools and strategies, you will not only finally find your true love, you will live life doing what you really love so you don't spend time in a relationship going nowhere, or eliminate an appropriate mate. I also focus on ways to become more self-assured so you won't lose hope while you are looking for that special person."
After divorcing her first husband in her mid-thirties with no children, Schoen remarried at age 42. Despite struggling with infertility, she gave birth to their son at 48 after exploring all her options to bring a child into her family. She understands the importance of perseverance during the journey to a life filled with love, family, and fulfillment, and feels fortunate to be helping others create their ideal lives.
Schoen will be a guest speaker at THE GREAT LOVE DEBATE for singles at the Arena Stage in WASHINGTON, DC at 6:30 pm on October 1. More details available at https://dclove.eventbrite.com.
To learn more about Schoen's coaching programs and services, visit: http://www.MotivatedToMarry.com. Schoen's videos can be seen on Youtube.com by searching for Coach Amy Schoen.