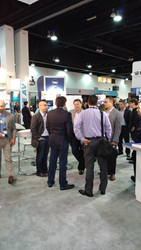 There are a multitude of reasons why Z-Wave has been so strongly embraced by the professional community and the consuming public. The primary factor is product-level interoperability. - Mark Walters, Z-Wave Alliance Chairman
Milpitas, California (PRWEB) September 23, 2014
Z-Wave, the world's most broadly adopted wireless protocol for smart home control, was a major exhibiting force at the recently concluded CEDIA Expo, the premier trade show in the home technology industry.
A total of 11 Z-Wave Alliance members -- Aeon Labs, Eaton Cooper Wiring, Enerwave, Fibaro, Homeseer, Kwikset, Linear, MCOHome, Schlage, Telguard, and Yale -- exhibited a diverse selection of smart home products within the Z-Wave Alliance Pavilion. What's more, 15 Alliance member companies exhibited Z-Wave products from their own booths elsewhere on the show floor. Additionally, another 15 Alliance members included their products in the pavilion's interoperability display which demonstrated 58 different products.
In total, the CEDIA Expo featured Z-Wave enabled smart home products from 41 Z-Wave Alliance members. With a total of 69 exhibitors at the event listed under "Home Automation and Control," Z-Wave technology was represented in the offerings of almost 60 percent of the companies in this category.
As impressive as the numbers are, the quality of the exhibiting companies is even more notable; many are recognized industry leaders within their individual market areas.
The Z-Wave products represented at CEDIA are part of an ecosystem that incorporates over 1,100 certified Z-Wave products, by far the most extensive group found on any smart home platform. What's more, these products represent an extensive array of price points, from the lowest-cost retail markets up to, and including, the CEDIA custom integrator market.
It was noteworthy that, despite the fact that there are several competing smart home technologies in the marketplace, Z-Wave was the only technology platform with an official presence at the show.
The growth of Z-Wave technology is expected to increase as more consumers embrace the smart home concept. Much of this growth can be attributed to the adoption of security technologies. Consider: According to a study by the Consumer Electronics Association, security is the leading motivator for consumers to enter the smart home arena. In fact, the same study pointed out that the purchase intent for security products (within two years, i.e., by 2015) is 26% for a monitored security system. Given that Z-Wave products power 100% of the North American security companies' lifestyle products and solutions, it is clear that the security area will present a fertile entry point for the continued growth of Z-Wave technology.
According to Mark Walters, Chairman of the Z-Wave Alliance, Z-Wave's imposing presence at CEDIA is a reflection of the technology's growing popularity among the installers, integrators and electronics dealers that make up the majority of show attendees, as well as consumers.
"There are a multitude of reasons why Z-Wave has been so strongly embraced by the professional community and the consuming public," he said. "The primary factor is product-level interoperability. Because Z-Wave is the only wireless control technology that's interoperable at the product level, all Z-Wave devices can talk to all other Z-Wave devices. With over 1,100 certified Z-Wave products available, that's a major benefit to the consumer, not to mention a key selling point for the integrators and installers who offer Z-Wave product."
Backwards compatibility is also an important consideration, Walters noted. "Future-proof is a major selling point for consumers and installers alike, and thanks to Z-Wave's extensive compatibilities, new Z-Wave products will always work with Z-Wave products that are already in place."
Walters expects the strong showing at CEDIA to continue at the CES Expo in January 2015. "We will have almost three times the number of exhibiting companies in the Z-Wave Pavilion, not to mention more companies exhibiting on their own. As a result, we expect the Z-Wave presence to be even more pronounced. And with the constantly increasing attention on the smart home market, CES will be a perfect stage on which to demonstrate Z-Wave's technological superiority.
"Ultimately, CEDIA was about delivering high-quality user experience within the custom electronics area and, by extension, the smart home market. Our presence at CEDIA showed that Z-Wave is well-positioned to deliver this experience. CES will provide us with a high-profile setting in which to emphasize that message."
Since its introduction to the market in 2003, Z-Wave has been the wireless technology of choice for the residential and commercial security markets. Z-Wave is the technology used by all major home security providers for lighting, locks and thermostats. Z-Wave technology also enjoys extensive presence in hospitality industry, home and commercial energy management, as well as solutions for the growing senior monitoring sector. Adopted by over 300 worldwide market leaders, Z-Wave is fully interoperable between all brands and is fully backward-compatible between versions.
# # #
About Z-Wave
Z-Wave technology and is an open internationally recognized ITU standard (G.9959). It is the leading wireless home control technology in the market today, with over 1100 certified interoperable products worldwide. Represented by the Z-Wave Alliance, and supported by more than 300 companies around the world, the standard is a key enabler of smart living solutions for home safety and security, energy, hospitality, office and light commercial applications.
Z-Wave® is a registered trade mark of Sigma Designs and its subsidiaries in the United States and other countries.
About the Z-Wave Alliance
Formed in January 2005, the Z-Wave Alliance is a consortium of leading companies in the home technology space dedicated to solidifying Z-Wave as the standard for wireless home control products. The principal members include; ADT, Evolve Guest Controls, FAKRO, Ingersoll-Rand, Jasco Products, Linear and Sigma Designs. Alliance members lead the home controls market, providing leading edge products and systems that deliver increased comfort, convenience, energy conservation, safety and security. For more information about the Z-Wave Alliance, visit http://www.z-wavealliance.org.
More Information:
Z-Wave Alliance
1778 McCarthy Blvd.
Milpitas, CA 95035
USA
Bulldog Communications
Art Sesnovich
508-485-0776 (o)
508-612-4179 (c)
agspr(at)earthlink(dot)net