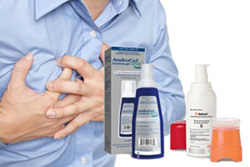 To learn about filing a testosterone lawsuit contact the Oliver Law Group P.C. for your free testosterone lawsuit case review by calling toll free 800-939-7878 today or visit www.legalactionnow.com
Chicago IL (PRWEB) September 23, 2014
The testosterone lawsuit attorneys at The Oliver Law Group P.C. were pleased to learn of the outcome of the U.S. Food & Drug Administration's (FDA) recently-concluded advisory panel meeting, which the agency convened on September 17th to examine the risks and benefits of prescription low testosterone therapy. According to a report from The New York Times, the panel of outside medical experts voted 20-to-1 to recommend that the medications' labels be modified to ensure they are not prescribed to men who merely suffer from low libido, fatigue or other problems related to aging. By the same overwhelming margin, the advisors recommended that the manufacturers of testosterone replacement therapies be required to conduct research investigating the potential heart risks associated with their use.
(nytimes.com/2014/09/18/health/testosterone-drugs-fda.html?_r=1, New York Times, September 17, 2014)
According to The New York Times, the advisors indicated that their recommendations were aimed at preventing "inappropriate advertising and use of these drugs." Among other things, they concluded that the use of testosterone therapy should be limited to men who suffer from low testosterone due to serious medical conditions, such as pituitary gland problems.
The new recommendations come as the manufacturers of AndroGel and similar treatments are facing some 200 testosterone lawsuits that allege the medications caused some users to suffer serious cardiovascular problems, including heart attacks and strokes. The claims, which are currently pending in federal multidistrict litigation underway in U.S. District Court, Northern District of Illinois, also question the way the drugs were promoted, and contend that inappropriate marketing of testosterone medications caused many men to use the medications even though they had no real medical need.
(In re: Testosterone Replacement Therapy Product Liability Litigation - MDL No. 2545)
The testosterone litigation has been growing since January, after the FDA revealed it was investigating a possible increased risk of heart attack, stroke and death among men who receive testosterone treatment. That review was launched after several studies suggested testosterone medications could increase cardiovascular risks in certain men.
(fda.gov/safety/medwatch/safetyinformation/safetyalertsforhumanmedicalproducts/ucm384225.htm, FDA, January 31, 2014)
A report released by FDA reviewers ahead of the advisory panel meeting concluded that there was little evidence to indicate that testosterone treatments did anything to relieve age-related symptoms in men. They also found that current studies examining the drugs' potential heart risks were inconclusive.
(fda.gov/downloads/advisorycommittees/committeesmeetingmaterials/drugs/reproductivehealthdrugsadvisorycommittee/ucm412537.pdf, FDA, September 3, 2014)
The Oliver Law Group is offering free low testosterone lawsuit reviews to men who allegedly suffered heart attacks, strokes or other cardiovascular events due to testosterone replacement drugs. Free legal evaluations are also being offered to families of men who allegedly died as result of a testosterone-related heart event. To learn more about filing a testosterone therapy lawsuit, please contact our office by calling 800-939-7878 today.
About The Oliver Law Group P.C.
Oliver Law Group P.C. is a different kind of law firm. One that focuses on the needs of the injured first. A compassionate law firm dedicated to fighting for the rights of victims and their families, and doing everything necessary to ensure those rights. 
The experience of a large firm. The 1-on-1 dedication of a small firm. A reputation built on trust.
Experience. Dedication. Trust. Oliver Law Group P.C.
If you would like to learn more about filing a testosterone lawsuit, turn to the law firm with the Experience, Dedication, and Trust you deserve. Contact the Oliver Law Group P.C. for your free case review by calling toll free 800-939-7878 today.