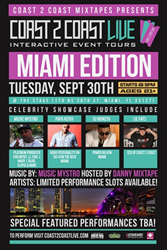 Miami, FL (PRWEB) September 26, 2014
Ending It's Monthly Tour, Coast 2 Coast LIVE Miami, September 30, 2014, brings together the best celebrity judges and Hip-Hop industry professionals including DJs, A&Rs, Producers and more. Coast 2 Coast LIVE provides major artists and indie artists alike an opportunity to network and perform for prizes. Artists can submit to perform during this event at Coast 2 Coast LIVE.
Coast 2 Coast LIVE Miami Edition will feature an artist showcase that will be judged by various celebrity judges spanning the music industry. Past event judges have included Grammy winning producers, multi-platinum and Grammy nominated artists, and well respected DJs and Record Breakers.
Event Information:
WILL CALL MIAMI | 700 NE 2ND AVE | MIAMI, FL 33132 Limit: 21
Guest Judges:
Music Mystro | Producer for Mary J. Blige, Cam'ron, Jim Jones, Juelz Santana & More
DJ Monsta | Power 96 Miami
Papa Keith | Radio Host on 103.5 The Beat Miami
For more information on the Miami Edition or the Coast 2 Coast LIVE September Tour Schedule, please visit the Coast 2 Coast Live website. Artists can submit to perform by going to http://www.coast2coastlive.com.
Media, DJs and models can register for free to any events at http://www.coast2coastlive.com/events
About Coast 2 Coast LIVE:
Coast 2 Coast LIVE tours in over 10 cities every month to bring indie artists major opportunities through our interactive showcase events. Artists submit via the website and get votes to perform in their city, judges critique the artists in various categories to find a winner for every city to take their music career to the next level. For more information, visit http://www.coast2coastlive.com