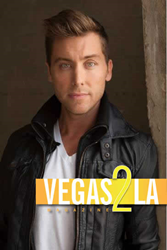 Vegas 2 LA the world of Entertainment & Events.
West Hollywood, CA (PRWEB) September 23, 2014
Vegas2LA, entertainment's newest lifestyle magazine, has announced that the face gracing the cover of it's much anticipated 3rd issue will be the multifaceted superstar, Lance Bass. Lance became famous as the green eyed bass singer of the enormously popular boy band 'NSYNC. He has since gone on to establish himself as a formidable presence in both music and entertainment, and as an activist in the LGBT movement. Vegas2LA creator, Alan Semsar commented on the editorial decision to feature Bass on the cover of this month's issue.
"We want to present the world with the freshest, hippest view of what's going on in the the Vegas/LA social scene. Our goal with this magazine is to really capture the influence that these two cities have on modern global culture. Lance has the look, vibe and spirit that embodies Vegas2LA's style, and he is definitely a force within today's entertainment industry, both behind the scenes and in front of the camera."
Bass is no stranger to the spotlight, having made headlines when he came out in 2006, in a very public way. His bravery in the face of possible public backlash earned him a humanitarian award, and recognition as one of the most visible celebrities in the music world to embrace his sexuality in the media. In spite of the fact that we live in a progressive society, there were naysayers.
The Human Rights Campaign stood by Bass and defended his award, responding to critics by saying, "Bass is the biggest music star since Melissa Etheridge to come out, and maybe some people think HRC should just ignore these moments of cultural significance, but his declaration did initiate a positive, national conversation that continues today."
By choosing Bass as the face of it's next issue,Vegas2LA has proven that it is a publication that is as provocative as it is relevant. For more information visit http://www.Vegas2LA.com.