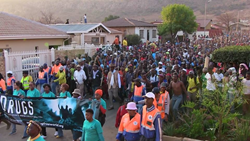 (PRWEB) September 23, 2014
Tribal leaders are determined to combat drug abuse in the township of Mamelodi, a city of 1.5 million residents in the outskirts of Pretoria, where the emergence of a new and very dangerous drug, nyaope, is wreaking havoc in the community.
Highly addictive, nyaope is a deadly mixture of dagga (marijuana) and cheap heroin, often combined with whatever other ingredients are available, from rat poison to anti-viral drugs and pool cleaner. According to a the South Africa Government News Agency, it is estimated that in as many as 80 percent of the households in eastern Mamelodi there is a family member addicted to this drug, many of them children and adolescents.
Eradicating drug and alcohol abuse is such a priority to the tribal chiefs that they incorporated drug education into the annual ceremony of manhood this year. Thousands of young initiates marched behind the bright blue banner of the Truth About Drugs, led by the chiefs and other township elders. Initiates then attended drug education lectures conducted by the Director of Special Affairs of the Church of Scientology of Pretoria and each received a copy of The Truth About Drugs booklets and signed a pledge to live drug-free.
The Church of Scientology supports The Truth About Drugs drug education and prevention initiative. To make this and the other humanitarian and social betterment initiatives it supports even more broadly available, the Church has published a new brochure, Voice for Humanity—Real Help, Real Results.
Inspired by the words of L. Ron Hubbard, Founder of the Scientology religion, that "a being is only as valuable as he can serve others," Scientologists wholeheartedly support these programs. Participation and collaboration in these initiatives is invited and welcomed from all who seek to improve conditions for themselves and others.
For more information, visit the Scientology website at http://www.Scientology.org/how-we-help/voice-for-humanity.