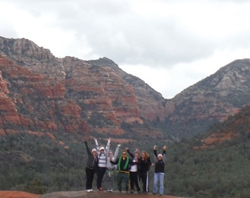 Prescott, Arizona (PRWEB) September 24, 2014
Decision Point Center's focus is helping individuals that have dual-diagnosis, drug and alcohol addiction, compulsive behaviors, codependency, underlying trauma, and behavioral health issues.
Decision Point has been treating adults since 2002, with a unique blend of 12 Step, holistic, adventure and individualized therapy to ensure that every one of our clients receives the most effective treatment. According to Decision Point Center's CEO, Michael McGill, "Acquiring Carleton will allow Decision Point Center to serve more clients and continue its mission of cognitively clarifying clients' concerns, while introducing them to the 12 Step philosophy with a goal of lifelong recovery."
With this acquisition, Decision Point Center will become the largest residential treatment center in Prescott, Arizona, expanding from 45 to 105 beds including 8 beds for detox services. Decision Point Center's Executive Director, Gail Chase-Quinn states, "This is very exciting news for us! Carleton Recovery Center has been successful at helping so many people over the years and we look forward to integrating the two companies. The transition will be unified with absolutely no interruption to our clients' care and daily routines."
The staff at both facilities have many years of experience in the field of addiction and recovery. This newly combined staff will only add to the level of expertise. "Decision Point Center's acquisition of Carleton is a win-win for our clients, present and future, as well as our employees. Our culture is one of collegiality and sharing where each clinician knows they not only have my support but the support of every member of the team," states Gary Hees, Decision Point Center's Clinical Director. "The addition of the years of expertise and experience of the Carleton team will greatly enhance our ability to effectively address the developmental and spiritual malady of addiction."
For more information regarding this announcement and our addiction treatment programs, please visit our website at: http://www.DecisionPointCenter.com or contact us directly at 888-966-9279.