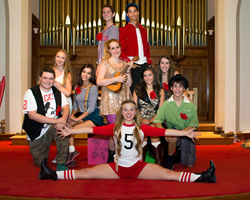 Somerset, NJ (PRWEB) September 23, 2014
Water damage has created a significant problem for the Middlebush Reformed Church in Somerset, New Jersey and obtaining enough funding to repair it has been challenging. An exceptional production of Godspell the Musical is aiming to generate funding to begin repairing this aged and gorgeous building.
Learning valuable lessons can be challenging for some, but when it is delivered through an entertaining musical, it can be heartwarming, uplifting, and inspiring. Such is the case with Godspell, the musical.
Godspell is a story of the gospels of Jesus as told in the Book of Matthew. Jesus recruits various followers and teaches them lessons through song and dance. It is a compelling, thought-driven musical written by Stephen Schwartz that originally opened on Broadway in 1971. A Broadway revival of Godspell played from October 2011 to June 2012. The parables of Jesus are interspersed throughout modern music set to mostly lyrics of traditional hymns.
This musical provides an exceptional bridge between some important lessons of Christ and modern entertainment. It is a timeless production that continues to captivate audiences around the world. Thanks to the direction and effort of director CJ Carter, Godspell can be enjoyed at the Middlebush Reformed Church in Somerset, New Jersey for two more nights: Friday, September 26th and Saturday, September 27th at 7:30pm.
CJ Carter, sophomore at Centenary College, presented the idea to the leaders of Middlebush Reformed Church as a way to help raise funds to begin rejuvenating the aging church building. The original church was destroyed by a fire in 1917 and the current building was completed in 1919, with the first service in their new home taking place on July 27th, 1919. Many servicemen returning from World War I attended the service and it was cause to celebrate.
The cast consists of Eva Michaylin, Jillian Patla (both freshmen at Raritan Valley Community College), Rafael Lozada (a freshman at Rutgers University), Franklin High School seniors Dance Captains, Kristen Seggio, Milltown resident Kristen Welsh of Bishop Ahr in Edison, siblings Angie and Ricky Francese, Dylan Coker, a junior at Franklin High School who plays Jesus, and Franklin High School freshman Sydney Wade who sings the show's most famous number, Day by Day.
Musical Director Carl Phillips, Choreographer Nick Hambrecht, Technical Director Anthony Francese, and Stage Managers Cassie Trovato and Albert Kraus join CJ Carter in making this a production worth seeing.
The shows will begin at 7:30pm on both Friday and Saturday night. The first weekend's performance was a tremendous success and everyone throughout the region is encouraged to come out and support a wonderful church and the efforts of all who have worked tirelessly to make this production one to remember.
Tickets are available at the door or online at mrcgodspell.brownpapertickets.com. Seating is limited, so anyone interested is encouraged to get their tickets as soon as possible.
ABOUT MIDDLEBUSH REFORMED CHURCH
The Middlebush Reformed Church is located in the heart of Somerset, New Jersey and aims to assist those throughout the area in need of spiritual and physical guidance and support. The church is closely connected to the community and provide various programs and support networks. Founded originally in 1834, the Middlebush Reformed Church continues to serve as a beacon to all who live, work, or travel within the area.