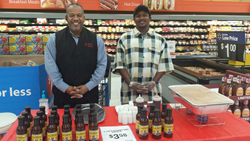 This is the best sauce I've ever tasted
Gulfport, MS (PRWEB) September 25, 2014
The World's Number One Retailer welcomed J. Lee's Gourmet BBQ Sauce to its Mississippi Gulf Coast Stores in August of this year and the sauce continuously disappears from the shelves. The sauce that reads "A Tastes That All Families Love" and "Put It On Anything" does a disappearing act when the shelves are stocked noted one customer who purchased several bottles and said, "It's the only barbecue sauce my children will eat." Gulf Coast residents and J. Lee's Gourmet BBQ Sauce followers are ecstatic to be able to go to their local Walmart and purchase bottles of J. Lee's from the shelves. "This sauce is like Houdini in my house," said a customer. "I have to hide a bottle for myself or it will all be gone."
Visitors to the touristic area of Biloxi, Mississippi and its surrounding areas routinely visit Walmart for groceries and many seek local products for tasting, keepsakes and souvenirs noted a store grocery manager. The Sauce Team conducted multiple taste testing demonstrations introducing the product to Walmart customers and hundreds of first time tasters of the sauce were quoted stating, "This is the best sauce I've ever tasted." The demonstrations prompted 100 plus bottles in sales at every store visited in an average of five hours. A couple visiting from New Hampshire said, "We're taking extra bottles since we drove and we can't get it at home."
"The customers love it," noted a Sales Associate in one location. "I've seen bottles continuously cross my register since you guys got here," said a cashier at another location.
The Sauce Team will continue to visit new locations and sample the product to the public. For additional information on upcoming locations, demonstrations, or to purchase J. Lee's Gourmet BBQ Sauce online, visit http://www.jleessauce.com .