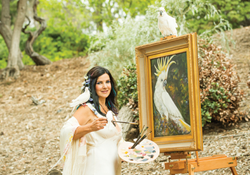 "Growing up I was always told that I was seeing more shades of color than my family and friends...It was apparent that I was seeing shades of color that others could not."
San Diego, CA (PRWEB) September 23, 2014
In a recent study, it was discovered that artist Concetta Antico possesses the genetic building blocks for an extra color cone class and this potential may allow her to see more shades of color than the average human. This is an extraordinary discovery, especially since Antico is a master painter, and through her work, the public can glimpse into her subjective yet vivid world— it is by all intents a merging of art and science.
The average human, or a trichromat (tri-meaning three & chromat-meaning color) has three photoreceptors, or "cone," classes. The cones are located in a photosensitive layer in the back of the eye and respond to specific wavelengths of light. These photosensitive cones allow normal color vision humans to see color. Tetrachromacy in humans is possible when an individual has both the genetic code for four different classes of photosensistive cone receptors, and has an additional neural processing channel for conveying color information.
"Growing up I was always told that I was seeing more shades of color than my family and friends," said Antico, Tetrachromat Artists. "As an artist, one is usually trained to interpret colors in a way that portrays a certain object or subject. For me, color variations, shades and luminesces were always vibrant and easy for me to pick up on. It was a given that I could process colors differently than others. It was apparent that I was seeing shades of color that others could not."
In December of 2012, Antico had a genetic test conducted that suggested she possessed the genetic building blocks for tetrachromacy. With this information it is suggested that she does in fact have a fourth pigment. Based on her gene sequence information, the peak sensitivity of Concetta's extra photo pigment class is expected to lie between the normal L-cone and the normal M-cone peaks. For further information please reference, http://www.concettaantico.com/scientific-details/
Recent psychophysical investigations suggest that Concetta Antico can attend to different luminance variations compared to the normal controls tested. Settings established for equiluminant, or equally bright, stimuli show that she differs remarkably from normal control participants in some regions of color space. Her greatest deviations include stimuli involving substantial mid to long-wavelength, or "reddish", spectral components. This result is consistent with the idea that she expresses an additional fourth cone class that is driving the differences found in her settings compared to those of trichromatic controls.
Antico is unique because at an early age she trained to become a skilled impressionist artist. This ability and her training with color makes her a candidate for the scientific definition of "strong tetrachromacy". Consequences of Antico's visual processing for artistic representation may ultimately be scientifically confirmed to show that she exhibits different, non-standard, color complements, an atypical form of color balance and the artistic representation of color in low light conditions such as shadows, at twilight, or other low light viewing circumstances.
To see results found in the empirical investigations of Kimberly A. Jameson, Alissa D. Winkler, Christian Herrera, and Charlie Chubb of The Human Tetrachromacy Research Collaborative, please visit the group's website at and http://www.tenthousandthings.info for links to a scientific summary. For a video presentation of these scientific investigations, please visit http://www.youtube.com/watch?v=9JnyL9t4U8s&feature=youtu.be. To learn more about Concetta Antico and tetrachromacy, please visit http://www.ConcettaAntico.com
Research Citations:
Citation: Jameson, K. A. and Winkler, A. D. (2014). Preliminary research report on the results of Concetta Antico's psychophysical color vision testing and its relation to her photopigment opsin genotype. URL: http://aris.ss.uci.edu/~kjameson/JamesonWinkler2014.pdf
Video citation: Jameson, K. A. & Winkler, A. (2014). New results on color appearance space and the potential for human tetrachromacy. Conference presentation at the Annual Cognitive Sciences Association for Interdisciplinary Learning (CSAIL). Hood River Valley, Oregon. August 2014. Published abstract: Program for CSAIL, July 31, 2014.