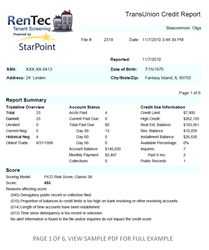 It is all about making the day to day chores of property managers easier
Grants Pass, OR (PRWEB) September 23, 2014
A new update has been published which brings some substantial performance improvements to the property management application. Much of the work is in the background and goes unseen (except by your computer's CPU).
This last weekend Rentec Direct Property Management Software engineers were busily working away to make Rentec Direct a lot faster! This upgrade includes new hardware and software upgrades for both the front and back-end. There's plenty of technical details about more and faster processors, more RAM, faster bus speeds, etc; however, what it really means is once logged in posting rental payments and running tenant screening reports, searching for properties, etc, those results are going to come up a lot faster.
Have any suggestions on how to make Rentec Direct better? They value feedback and use it to prioritize projects. Just login and click "need help" in the upper-right corner. Click "browse ideas" next to Feedback on the left, and vote for good ideas, or create your own! We look forward to your feedback.When asked why Rentec Direct puts so much effort into customer requests and improving there software? Nathan Miller, President of Rentec Direct replied, "It is all about making the day to day chores of property managers easier."
To learn more about Rentec Direct or to obtain a 30-day full featured free trial of the software, visit http://www.rentecdirect.com/
About Rentec Direct
Rentec Direct provides cloud based rental software solutions for property managers and landlords. Other popular solutions offered by Rentec include tenant ACH payment processing, tenant screening, and online syndication of vacancies to more than twenty popular websites.