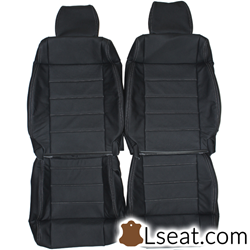 (PRWEB) September 23, 2014
The leather seat covers offered by Lseat.com are meticulously in house designed and produced by the company's professional design team to meet customers' specific product needs and budget level. The company has recently announced its new selection of Jeep leather seat covers. Furthermore, the firm has launched an autumn special offer for these elegant items. Each product in the new range is now available at a discounted rate (up to 30% off).
Before the new items are produced, the company's top designers also carefully pick out and test all the top quality and innovative materials. All the materials they use are comfortable to the touch and durable for extensive usage.
As a matter of fact, Lseat.com has extensive experience in the making seat covers. Its vast knowledge enhances the quality of the fresh items. Now, the firm is selling various kinds of excellent products, including 2007-2012 Jeep Wrangler JK leather seat covers and 1997-2006 JEEP Wrangler TJ leather seat covers. They are available in several elegant colors.
What's more, Lseat.com also offers affordable customized items. The company is popular in the international market for its great services and affordable rates. It has thousands of quality items in stock; most of them are offered at extremely affordable prices now.
About Lseat.com
Lseat.com is a globally accomplished supplier of leather seat covers, and this company has developed into a modern enterprise that offers its customers around the world a one-stop seat cover solution. The business is committed to providing premium quality products at competitive rates. Now, it has been serving a large number of customers from over 70 countries.
For more information about their leather seat covers, please visit http://www.lseat.com/.