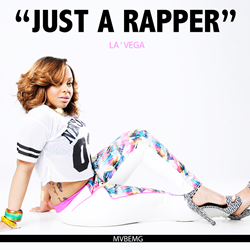 Sosa also added that SoundCloud and YouTube are now viable sources for royalties, and that their label's (MVBEMG) first priority, is their artist's financial well being
New York, New York (PRWEB) September 23, 2014
New York City independent record label MVBEMG, has just shifted their M.O., by releasing music from their catalog on YouTube and SoundCloud, first, before any of the major online retailers or popular streaming services.
MVB Entertainment Music Group's (MVBEMG) latest release "Just a Rapper", is the latest single from up-and-coming female Rapper La ' Vega. The bouncy Hip Hop track is not even on iTunes pre-order as of yet, but her fans have been playing the song on SoundCloud for almost two weeks.
Abdel 'Sosa' Russell, the owner of MVBEMG, said this was a strategic move, to help bolster the single's release on Spotify, Rdio, Xbox Music, and it's iTunes pre-order campaign that kicks off on September 30th.
Sosa also added that SoundCloud and YouTube are now viable sources for royalties, and that their label's (MVBEMG) first priority, is their artist's financial well being, and second is their development.
La ' Vega currently has her 5th mixtape "Life Is Good" on all popular music retail sites, and music streaming services. She's also opening up for a popular indie female artist by the name of Nina, on September 26th at the Pyramid nightclub, in Lower Manhattan.